Senior Spotlight: Ella Dupuie
Name: Ella Dupuie
Grade Started at Ascension: 5th
Favorite Teacher: Her favorite teacher is Mr. Hall.
Favorite Ascension memory: Ella's favorite Ascension memory was "in 7th grade when Nyah Mitchell and I watched The Greatest Showman in Mr. Hall's classroom, rolling around hysterically on the ground while singing along."
Future Plans: Ella plans to major in English, and though she hasn't picked her college yet, she is most interested in NSU.
---
Throughout her time at Ascension, Ella has been involved in many extracurriculars. Ella has been swimming for Ascension since 5th grade, and she is a middle school assistant swim coach. She is a member of BETA, NHS, NEHS, and Rho Kappa. She is the editor-in-chief of the Authored Ascension and the editor-in-chief of the yearbook. While working in Journalism, she has been a great, eloquent leader and always makes sure her team stays on task, working hard every day to get the yearbook done on time. 
Reading is a great escape for many people. Those who know Ella know that she is a huge book nerd, and she can never be found without a book. When asked what her favorite book was, she proceeded to make a list because she couldn't pick a single one. Her list consisted of Six of Crows, The Lunar Chronicles, The Darkest Minds, The Illuminae Files, and The Aurora Cycle. Once Ella picks up a book, she can't put it down, and she has an undying love for reading.
Ella is a very complex person with many talents. Though she is just a few short months away from graduating, she isn't certain about what her dreams are for the rest of her life. In the words of a very amused Mr. Shome, "she may not have any dreams, but she is the nightmare." That's okay though, because she is young and has plenty of time to figure that out. Some other fun facts about Ella is that her favorite color is purple, her favorite animals are cats, her favorite genre of music is heavy metal, and her favorite candy is dark chocolate Hershey's. Her favorite type of weather is stormy because she loves to curl up with a good book and relax with her cat while listening to the thunder. Ella also loves Halloween, and she enjoys going to haunted houses every year, dressing up to trick-or-treat, and decorating her room from floor to ceiling. She can't wait to see what senior year has in store for her!
View Comments (2)
About the Contributor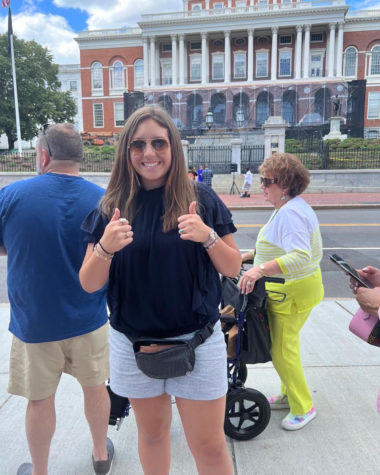 Caroline Ortemond, Assistant Editor
Hi everyone! My name is Caroline Ortemond. This is my second year being a member of Journalism. This year I am an assistant editor, and I love my journalism team. I am a member of the basketball and softball teams. I enjoy reading, writing, and art. I love Ascension and all of its opportunities. I am the co-founder of a club and a member of multiple youth groups. I can't wait to see what this year has in store for the Journalism group.