73 Questions With Payton Elise Musso
On a scale of 1-10, how excited are you about life right now?

I'd say a concrete 10/10 because dog days are on the horizon. 

Describe yourself in a hashtag?

#beallsmiles

Who's your celebrity crush?

Chris Hemsworth, I meannnnnnn. 

If you could raid one woman's closet, who would it be?

Taylen Guillot's, for the reason that she perpetually is dressed to the nines.  

What's one thing people don't know about you?

That I'm not too fond of reality shows, e.g.

Keeping Up With The Kardashians

,

The Simple Life

,

America's Next Top Model

,

Jersey Shore

,

The Real Housewives

,

Laguna Beach

, and/or

The Hills

. 

What's your morning routine?

My daily grind entails much, much snoozing, without fail, personal hygiene factors, step-by-step skincare and makeup routines, and lastly, the school uniform saga. 

What's your nighttime routine?

My eventide regimen entails much, much coursework, without exception, further personal hygiene factors, a relaxing bath bomb, bubble bath, and in closing, selecting the most quintessential cordinating pajama set.

What's your favorite time of day?

I'd say, in all likelihood, 8:00 P.M., on account of that typically being the opportunity in which I may sit back and relax, officially. 

Dream country to visit?

Italy takes the cake.

What's the biggest surprise you've had?

Glimpsing that ridiculously substantial rouge ribbon atop my sweet sixteen wheels.

Heels/flats or sneakers?

Heels, can't live without em. 

Vintage or new?

New. I'm honestly, not a big fan of vintage.

Style Icon?

Zendaya, through and through. 

Your Idol?

My madre, Sheila Musso.

What are 3 things you can't live without?

Apple Iphone, which is an essential, my crib, as MTV prognosticates it, and sushi, the best of the best cuisine to grace our planet, ever. 

What's one condiment you put on everything?

Sriracha Hot Chili Sauce, the Huy Fong variety.  

What 3 people living or dead would you like to have dinner with?

Each of my grandmas, dad's and mom's, and my auntie, Anglea. 

What's your biggest fear in life?

Hurt, whether it's intellectually, introspectively, physically, or emotionally. 

Window or aisle seat?

Window, who wouldn't side with the scenery?!

What's your current TV obsession?

Disney+, which, to-some-extent, has begun to become a bit of an issue. 

Favorite App?

TikTok, it's more of a recent go-to. 

Secret Talent?

Unsure if it's a secret talent or more of a fun fact, but I command double- jointed and hyper flexible toes. 

Most adventurous thing you've done in your life?

Strolling three ish miles astride the beach with friends, traveling through the state park, grabbing fro-yo, and ultimately, returning to our condo, in the end.

How would you define yourself in three words?

Spontaneous, sympathetic, and zestful.

Favorite piece of clothing you own?

A cozy fleece Boyfriend Hoodie. 

Must have clothing item everyone should have?

A LuluLemon Apparel Tennis Skort, specifically the "Pace Rival Mid-Rise Skirt." 

Superpower you would want?

Invisibility, which is the power to render oneself unable to be seen, not to be confused with camouflage. 

What's inspiring you in life right now?

Linden and I's mama, however, that's always. 

Best piece of advice you've received?

To forgive and forget. 

Best advice you'd give your younger self?

With hard work comes success.

What's a movie that everyone should see?

Manchester by the Sea

starring Casey Affleck and Michelle Williams. 

What would you like to be remembered for?

Being a leader rather than a follower. 

How do you define beauty?

Confidence is key, in regards to beauty. 

Best way to rest/decompress?

An epsom salt soak. 

What's your go-to karaoke song?

Taylor Swift's, "We Are Never Ever Getting Back Together." 

If you could master one instrument, what would it be?

Strumming the Guitar. 

If you had a tattoo, where would it be?

Assuredly, a rib tattoo.

Dolphins or koalas?

Koalas, which are exceedingly, exceedingly more cuddly. 

What's your spirit animal?

A white tiger.

Best gift you've ever received?

Harmonia Roses, Luxury Roses.

Best gift you've ever given?

A LuluLemon Apparel Gift Card, since they're always in such high demand.

What's your favorite board game?

Monopoly by Hasbro Gaming. 

What's your favorite color?

Pretty in Pink. 

Least favorite color?

Orange is not appealing to me, whatsoever. 

Diamonds or pearls?

Diamonds, they speak to me. 

Drugstore or high-end makeup?

Drugstore's just as good, if not better, than high-end makeup. 

Blow-dry or air-dry?

Blow-dry, at least usually. 

Pilates or yoga?

Yoga, zen. 

Coffee or tea?

Coffee, exceptionally Starbucks. 

What's the weirdest word in the English language?

Queue, in reference to a waiting line especially of persons or vehicles. 

Dark chocolate or milk chocolate?

Milk chocolate, one hundred percent. 

Stairs or elevator?

Stairs, major calorie burning. 

Winter or Spring?

Spring's warmer weather. 

Summer or Fall?

Fall, without qualification. 

You are stuck on an island, you can pick one food to eat forever without getting tired of it, what would you eat?

Sushi, solely coming from Fuji Sushi. 

A dessert you don't like?

Key Lime Pie, yuck. 

A skill you're working on mastering?

Hardly procrastinating. 

Best thing to happen to you today?

Sushi for supper. 

Worst thing to happen to you today?

Schoolwork and Homework, ick.

Best compliment you've ever received?

Having "stellar manners." 

Favorite perfume?

Brazilian Crush Cheirosa Hair & Body Fragrance Mist.

Hugs or kisses?

Hugs versus kisses. 

If you made a documentary, what would it be about?

Existence, on the whole. 

Last piece of content you consumed that made you cry?

Youtube compilations of fervent soldiers surfacing home. 

Lipstick or lip gloss?

Gloss is more fun. 

Sweet or savory?

Sweeeeet. 

Song you can listen to on repeat?

"Sara Smile," by Daryl Hall & John Oates. 

If you could switch lives with someone for a day, who would it be?

Kim Kardashian.

What are you most excited about at this time in your life?

Sunny Season. 

Your go-to for having a good laugh?

My sidekick, Linden Musso. 

Your affirmation for today?

I'm beautiful, it's true. 

Leather or lace?

Lace is precisely, more my speed.

What's your guilty pleasure?

Oversleeping. 
View Comments(1)
About the Contributor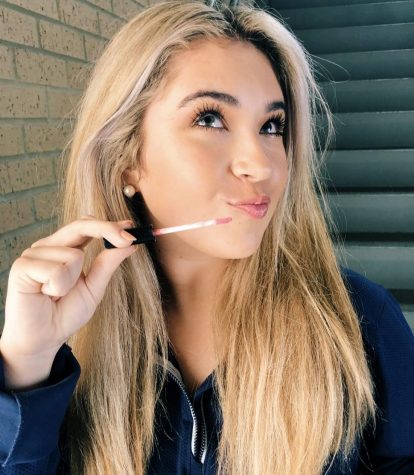 Elise Noelle Cope, Staff Writer
Hi you guys, I am Elise Noelle Cope! I am a senior this year and have attended Ascension throughout my whole school career. This is my first and final year in journalism as a staff writer, so it's pretty bittersweet. I have religiously gone to YoungLife get-togethers and have participated in clubs here at Ascension, such as Cupcakes for Causes and SADD. In my downtime, I design clothes in my sketchbook and bring them to life using my sewing machine! I am eagerly anticipating college so I can further pursue my passion for Fashion Journalism. Also, I am big on friendship, so I am constantly hanging out with my friends and family! I absolutely love to write, so I am very excited to partake in 
The Authored Ascension
!