A Slice Of My Opinion
1. Central Pizza 
By far, this pizza has the best crust, cheese, marinara sauce, and pepperoni in town. They have a good ratio of all of the ingredients; It puts every other pizza joint to shame. The only downside is that the atmosphere is not the best, and their water tastes weird, but I am not ranking them on those criteria (only the pizza). It is fun to get a large group of people to go with you to Central Pizza because the pizzas are massive. Also, all of their dough is homemade, giving their pizzas a very homemade taste.
2. Deano's
This one is a bit tricky, but I do like their pizza. Some people do not like it because the crust is crunchy, but this is the exact reason why I like it so much. It is a nice change of pace from thin crust and thick crust, and I think they put their own unique touch on a classic dish.
3. Bj's Brewhouse
Bj's has the best deep dish pizza in town, but it is not as memorable as Central Pizza and Deano's, hence why it is ranked a little lower. They have a good atmosphere and location, and there's not much negative I can say about it.
4. Ruffino's
Ruffino's has a build your own pizza, which I really like because it allows you to put your own spin on the dish. It is a little too greasy for my taste but, overall very good, and I love the atmosphere in this place.
5. Pizza Village
Pizza Village is not my all-time favorite, but their pizza is decent. They put a little too much sauce for me, but I can see how others would like it.
6. Lit Pizza
I'm not a huge fan of thin crust pizza, but this one is my favorite out of the bunch. Thin crust lovers would love it, though.
7. Antoni's Italian Cafe
This pizza is good but has too much sauce for me. It drowns the cheese out.
8. Romanelli
The dough is not my favorite. If you like doughy pizza, this is the pizza for you. I do like how they put garlic on the crust, though.
9. Domino's
This is not my favorite pizza, as it tastes like any other fast-food pizza. There isn't anything that really sticks out. I like the stuffed crust, though.
10. Papa John's
I only put it as number ten because I ran out of pizza places to rank. They put pepper in their box, which makes the whole pizza taste like peppers. I'm not a fan of peppers.
Leave a Comment
About the Contributor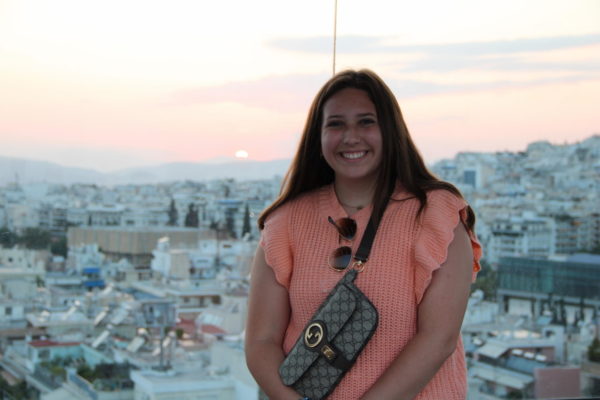 Caroline Ortemond, Editor-in-Chief
Hey everyone! My name is Caroline Ortemond. I am the Chief and Editor of Journalism this year. I have been in Journalism for three years, and I absolutely love it! This is going to be my last year in Journalism, so I am going to try my hardest to make it the best year ever. I play basketball and track, and I am the president of the Speech and Debate Team. My favorite thing about Ascension is the welcoming environment that makes everyone feel like they're a part of one big happy family.