73 Questions with Abbie Rae Hebert
On a scale of 1-10, how excited are you about life right now?

Probably a 4/10, just because I've been in a rut recently and need it to be summer, almost immediately.

Describe yourself in a hashtag? #boss-babe
Who's your celebrity crush?

Dylan Obrien, ugh. 

If you could raid one woman's closet, who would it be?

Emma Chamberlain, beyond any doubt. 

What's one thing people don't know about you?

That I prefer cats over dogs, oddly enough. 

What's your morning routine?

My sunrises, truly, consist of dragging myself outta bed, last minute, in order to gear up for school in the A.M. 

What's your nighttime routine?

On the other hand, my sunsets consist of skincare and scolding showers before it's time to get some shuteye. 

What's your favorite time of day?

Slumbertime, duh.

Dream country to visit?

Buenos Aires, Argentina, all day, every day. 

What's the biggest surprise you've had?

When I scored, not one, but two little sisters, whom I adore dearly. 

Heels/flats or sneakers?

Sneaks. 

Vintage or new?

New, however, vintage is always appreciated. 

Style Icon?

Anything and everything Buffy Summers from

Buffy The Vampire Slayer

. 

Your Idol?

Madeleine Petsch. 

What are 3 things you can't live without?

My madre, a security water bottle, and whipped peanut butter, which is quite random but a definite necessity. 

What's one condiment you put on everything?

Garlic Expressions Salad Dressing. 

What 3 people living or dead would you like to have dinner with?

Jesus, Britney Spears, and Paris Hilton. One interesting bunch, if I do say so myself. 

What's your biggest fear in life?

Hardly accomplishing every single thing I've set my heart on. 

Window or Aisle Seat?

Window.

What's your current TV obsession?

Teen Wolf.

Favorite App?

Instagram, at the moment. 

Secret Talent?

I have and am currently partaking in Gymnastics/Tumbling, so I have a few tricks up my sleeve, here and there. 

Most adventurous thing you've done in your life?

Biking a five mile trail upward then downward. The route maybe wasn't the most adventurous, however, the most tiresome, absolutely. 

How would you define yourself in three words?

Charming, Charismatic, and Spunky. 

Favorite piece of clothing you own?

Any and all of my cutesy dresses. 

Must have clothing item everyone should have?

A comfortable and flattering pair of jeans, which can range anywhere from straight leg, bootcut, wide leg, to ultra skinny mini. 

Superpower you would want?

Super speed. 

What's inspiring you in life right now?

My momma, Kathryn Manuel Hebert. 

Best piece of advice you've received?

If they wanted to, they would. 

Best advice you'd give your younger self?

No one cares as much as you feel as though they do. 

What's a movie that everyone should see?

Tangled

.

What would you like to be remembered for?

Making those whom I've crossed paths with, feel more than special. 

How do you define beauty?

Beauty lies within the manner in which those treat others, throughout all aspects of life. 

Best way to rest/decompress?

An alleviating yet soothing, bubble bath. 

What's your go-to karaoke song? "

20 Min" by Lil Uzi Vert. 

If you could master one instrument, what would it be?

The piano, without a doubt, in my mind. 

If you had a tattoo, where would it be?

Behind either my left or my right ear. 

Dolphins or koalas?

Dolphins. 

What's your spirit animal?

A spider monkey.

Best gift you've ever received?

A gold plated,  dangly necklace, with a little angel embellishment, given to me by my mama. 

Best gift you've ever given?

Luxury Perfume. 

What's your favorite board game?

Candyland, of course. 

What's your favorite color?

50 shades of pink, and I mean… any shade of pink. 

Least favorite color?

Orange, blah.

Diamonds or pearls?

"Diamonds… Diamonds, I don't mean rhinestones, but diamonds are a girl's best friend, Best Friend" – Lyrics from Marilyn Monroe's "Diamonds Are A Girl's Best Friend" 

Drugstore or high-end makeup?

High-end makeup. 

Blow-dry or air-dry?

Blow-dry. 

Pilates or yoga?

Yoga. 

Coffee or tea?

Tea.

What's the weirdest word in the English language?

Effort, but that's just my opinion.

Dark chocolate or milk chocolate?

Dark chocolate.

Stairs or elevator?

Stairs, solely for the exercise, though. 

Winter or Spring?

Spring. 

Summer or Fall?

Summer. 

You are stuck on an island, you can pick one food to eat forever without getting tired of it, what would you eat?

Peanut butter pretzel bites. 

A desert you don't like?

Anything having dealt with,

white chocolate.

A skill you're working on mastering?

Channeling less of my sarcastic mannerisms. 

Best thing to happen to you today?

In all likelihood, this interview. 

Worst thing to happen to you today?

A whole lot of excess water spillage from failing to remember that the lid wasn't screwed on tight enough, pertaining to my water bottle. 

Best compliment you've ever received?

Gingers are mighty, mighty superior. 

Favorite perfume?

I have two tried and trues; Calvin Klein's, Euphoria and Eau De Juice's, Pure Sugar. 

Hugs or kisses?

Kisses. 

If you made a documentary, what would it be about?

The support of Vegetarianism, which is a strong opinion of mine. 

Last piece of content you consumed that made you cry?

The song "Motion Sickness," by Phoebe Bridgers. 

Lipstick or lip gloss?

Lip gloss, any day of the week. 

Sweet or savory?

Savory. 

Song you can listen to on repeat?

"Find You Again" by Kevin Gates. 

If you could switch lives with someone for a day, who would it be?

Shane Dawson, which, in reality, could be quite the entertainment. 

What are you most excited about at this time in your life? "

Summer, Summer, Summertime" – Lyrics from Will Smith's "Summertime" 

Your go-to for having a good laugh?

The Sturniolo Triplets, via YouTube. 

Your affirmation for today?

I am a strong, independent woman. 

Leather or lace?

Leather. 

What's your guilty pleasure?

Bhad Bhabie.
Leave a Comment
About the Contributor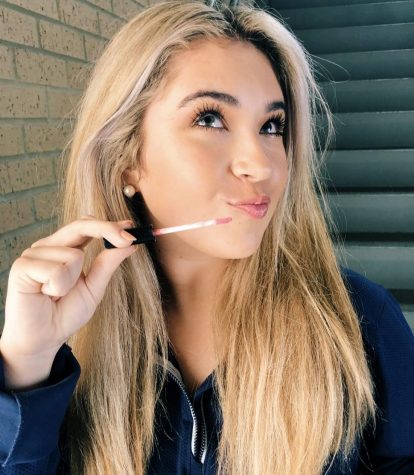 Elise Noelle Cope, Staff Writer
Hi you guys, I am Elise Noelle Cope! I am a senior this year and have attended Ascension throughout my whole school career. This is my first and final year in journalism as a staff writer, so it's pretty bittersweet. I have religiously gone to YoungLife get-togethers and have participated in clubs here at Ascension, such as Cupcakes for Causes and SADD. In my downtime, I design clothes in my sketchbook and bring them to life using my sewing machine! I am eagerly anticipating college so I can further pursue my passion for Fashion Journalism. Also, I am big on friendship, so I am constantly hanging out with my friends and family! I absolutely love to write, so I am very excited to partake in 
The Authored Ascension
!