Senior Spotlight: Barett Matthew Hebert
Name: Barett Matthew Hebert
Grade Started At Ascension: 8th
Favorite Teacher: Mr. Rex Jones
Favorite Ascension Memory: Watching many, many movies in AAA with Ethan Diaz and Sophia Mury
Future Plans: To attend Baton Rouge Community College with the intent of majoring in Poultry Farming.
---
Barett Hebert came to Ascension Episcopal School, his 8th-grade year, from North Vermillion Middle School, where he concluded his 5th, 6th, and 7th-grade years. Here at Ascension, Barett has been a participant of Taco Bout Jesus, Boys to Men, Music Club, and currently, he's in the Food Club. He is a constituent of our Blue Gator Baseball Team, playing positions such as first base and pitching, and he is a fellow player of our Ascension Football Team, playing positions such as right tackle and defensive end. 
Barett Hebert also has future plans of attending Baton Rouge Community College with the pursuit of playing in college ball. Barett has been passionate about the game since he was around the ages of four to five because the vigorous sport of baseball runs throughout his family. However, following Barett's time at BRCC, he's confident that he will enlist in the military. Many of Barett's family members have served in the military, which is ultimately where his devotion to succoring came about. Also, in exchange for a service commitment, college fees, tuition, and other college expenses are financed, which is another substantial reason for Barett to enlist in the military. And last but certainly not least, Barett would like to thank Ascension Episcopal School for preparing him for his future endeavors. 
Leave a Comment
About the Contributor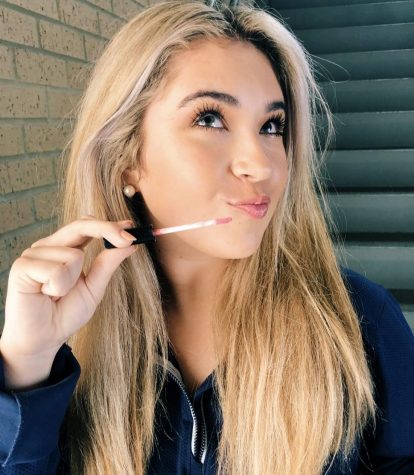 Elise Noelle Cope, Staff Writer
Hi you guys, I am Elise Noelle Cope! I am a senior this year and have attended Ascension throughout my whole school career. This is my first and final year in journalism as a staff writer, so it's pretty bittersweet. I have religiously gone to YoungLife get-togethers and have participated in clubs here at Ascension, such as Cupcakes for Causes and SADD. In my downtime, I design clothes in my sketchbook and bring them to life using my sewing machine! I am eagerly anticipating college so I can further pursue my passion for Fashion Journalism. Also, I am big on friendship, so I am constantly hanging out with my friends and family! I absolutely love to write, so I am very excited to partake in 
The Authored Ascension
!