2022 Cheerleading Tryouts
During the week of March 14th, Ascension held tryouts for the JV and Varsity cheer squads. The tryout clinics were on Tuesday and Wednesday, and the main tryouts were on Friday (3/18). During the mandatory clinics, the girls trying out were taught a cheer and a dance choreographed by the current Senior cheerleaders. The girls were also coached on kicks, jumps, and motion techniques. 
During the first day of tryout clinics (Tuesday), the girls started by warming up and practicing "gator kicks." Gator kicks are traditionally used when the Blue Gators score a touchdown during the football game and are a predominant aspect of Friday Night Lights for the cheerleaders. The girls first learned the cheer and broke off into small groups to continue practicing it. When they came back together as a group, they learned the dance. At the end of the clinic, the girls were given the score sheets that the judges use on tryout day.  
The second day of tryout clinics (Wednesday) started off with the Senior cheerleaders showing off what tryouts look like. The girls then broke off into four stations where they spent 20 minutes at each station practicing the cheer, dance, and runouts. In the fourth station, the girls trying out were fitted for camp wear for next year. After the four stations were finished, the girls were told what to wear for tryouts on Friday. 
On tryout day (Friday), the girls met in the gym and performed the cheer and dance one last time. When it came time for the girls to try out, they spirited into the gym while showing off their tumbling skills. Then they performed the cheer and danced with a partner in front of the judges. The girls were judged on their runout and tumbling, cheer, dance, and overall impression. 
The 2022-2023 Varsity Squad is as follows: 
Abbie Hebert 

Annie Boudreaux 

Aubrey Jones 

Aubrey Womack 

CC Perry 

Ella Grace Hebert 

Ellie Hulin 

Emmy Leblanc 

Gabriella Zepeda 

Greta Leoni 

Hollyn Hebert 

Jeanne Claire Franques 

Josie Bourgeois 

Lauren Roth 

Linden Musso 

Mamie Mendell 

Reagan Adania 

Sarah Katherine West 
The 2022-2023 JV Squad is as follows: 
Aria Van Way 

Coco Dupre 

Julia Ellis 

Noelle Kates
Leave a Comment
About the Contributor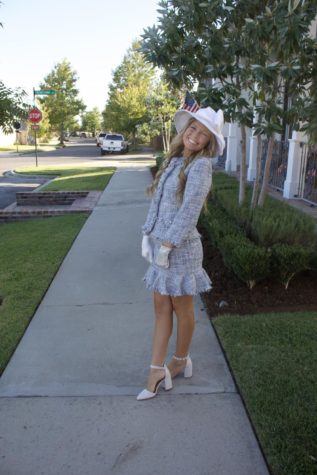 Greta Leoni, Assistant Editor
Hey, y'all! My name is Greta Leoni, and I am a senior this year. I have been at Ascension since Pre-K3 and during those 15 years, I have been a part of the cheer, basketball, and volleyball teams. I also have been a part of clubs such as Cupcakes for Causes and Beads for Needs while at Ascension. I enjoy hanging out with my friends and family, watching movies, and shopping. This is my second and last year in Journalism, and I am so excited!