73 Questions with Ascension Alum: Hollyn Grace Duay
On a scale of 1-10, how excited are you about life right now?

I'd say an 8/10 because my life's luckily really enjoyable nowadays, so I definitely can't complain. 

Describe yourself in a hashtag?

Hmmmm. I'd say #furmomma because I spend an immense amount of time taking care of my dog, Bentley, whom I love dearly. 

Who's your celebrity crush?

Without a doubt, Jacob Elordi. I've drooled over every series and/or movie that he's been in. 

If you could raid one woman's closet, who would it be?

Definitely Elise Cope's closet, because she has any and every piece of clothing you could possibly need or want. She even has a separate closet just for her shoes! 

What's one thing people don't know about you?

I don't quite like Raising Cane's chicken, so I only ever order their bread and/or french fries, which usually shocks anyone and everyone. 

What's your morning routine?

My typical morning routine entails rise-and-shining, devouring a delicious breakfast, exercising, showering, and doing all the girly things in order to take on my day. Afterwards, depending on the day, I'll then head over to either school or work. 

What's your nighttime routine?

My typical nighttime routine entails devouring a delicious dinner, finishing up some homework, chilling out, maybe being glued to either Hulu or Netflix, and finally, concluding with my evening skincare routine. 

What's your favorite time of day?

Twilight hours for relaxation, easily. 

Dream country to visit?

Rome, Italy, all the way. I'd zip my luggage and take a flight tomorrow morning if I had the ability to do so. 

What's the biggest surprise you've had?

Probably my golden retriever, Bentley.

Heels/flats or sneakers?

Sneaks. 

Vintage or new?

Vintage.

Style Icon?

Kendall Jenner.

Your Idol?

Blake Lively.  

What are 3 things you can't live without?

Family, friends, and Bentley, of course. 

What's one condiment you put on everything?

Ketchup. 

What 3 people living or dead would you like to have dinner with?

Audrey Hepburn, Blake Lively, and Ellen Pompeo. 

What's your biggest fear in life?

Snakes, 100%.

Window or Aisle Seat?

Window.

What's your current TV obsession?

Emily in Paris

. 

Favorite App?

VSCO.

Secret Talent?

Oddly enough, I don't believe I have one, or any for that matter.

Most adventurous thing you've done in your life?

Off-roading in Moab, Utah.

How would you define yourself in three words?

Adoring, altruistic, and bestowing. 

Favorite piece of clothing you own?

Anything and everything LuluLemon Athletica wear. 

Must have clothing item everyone should have?

Clothing sets are always a must in my wardrobe, and they should be in yours too. 

Superpower you would want?

The ability to read others' minds, also known as telepathy. 

What's inspiring you in life right now?

My mother, Lynne Zimmer Duay.

Best piece of advice you've received?

Life's too short to stay mad at anyone and everyone. 

Best advice you'd give your younger self?

Don't sweat whatever others presume, any one thing concerning you, be happy!

What's a movie that everyone should see?

The Age of Adeline

.

What would you like to be remembered for?

Spreading kindness throughout my walk of life.

How do you define beauty?

"Beauty is only skin deep. I think what's really important is finding a balance of mind, body, and spirit." – Jennifer Lopez

Best way to rest/decompress?

Exercising. 

What's your go-to karaoke song?

Mr. Brightside, by The Killers. 

If you could master one instrument, what would it be?

The Violin.

If you had a tattoo, where would it be?

Most likely, in one place or another, on my wrist.

Dolphins or koalas?

Dolphins. 

What's your spirit animal?

A gray wolf. 

Best gift you've ever received?

My Golden Retriever, Bently. 

Best gift you've ever given?

A memorabilia for Mother's Day.

What's your favorite board game?

Monopoly. 

What's your favorite color?

50 shades of blue. 

Least favorite color?

Orange.

Diamonds or pearls?

Diamonds are a girl's best friend!! Am I right??

Drugstore or high-end makeup?

High-end makeup. 

Blow-dry or air-dry?

Air-dry.

Pilates or yoga?

Yoga.

Coffee or tea?

Tea.

What's the weirdest word in the English language?

Hippopotomonstrosesquippedaliophobia, which is the name for "a fear of long words." 

Dark chocolate or milk chocolate?

Milk chocolate.

Stairs or elevator?

Stairs because they're good exercise. 

Winter or Spring?

Spring.

Summer or Fall?

Summer.

You are stuck on an island, you can pick one food to eat forever without getting tired of it, what would you eat?

Steak with any and every type of seasoning. 

A desert you don't like?

I don't really care for cake, of any flavor.

A skill you're working on mastering?

Obtaining a routine. 

Best thing to happen to you today?

Unfortunately, but fortunately, my accounting test being scrapped. 

Worst thing to happen to you today?

Waking up at dawn, yawn. 

Best compliment you've ever received?

That I have the most gorgeous eyes, known to man. 

Favorite perfume?

Any single scent that Bond No. 9 has produced/produces. 

Hugs or kisses?

Hugs. 

If you made a documentary, what would it be about?

My fur baby, Bentley, and how he's changed everything about my life. 

Last piece of content you consumed that made you cry?

The film

I Still Believe

,

starring KJ Apa and Britt Robertson. 

Lipstick or lip gloss?

"Lipstick lasts longer, but gloss is more fun." – Serena Van Der Woodsen, portrayed by Blake Lively in Gossip Girl

Sweet or savory?

Sweet. 

Song you can listen to on repeat?

Bandaid On A Bullet Hole, by Morgan Wallen.

If you could switch lives with someone for a day, who would it be?

Blake Lively, without a doubt in my mind. 

What are you most excited about at this time in your life?

Greek life!

Your go-to for having a good laugh?

My family and friends are always a hoot and a half. 

Your affirmation for today?

I am stronger than strong, today and everyday. 

Leather or lace?

Leather.

What's your guilty pleasure?

Ice Cream Shops, so yum. 



Leave a Comment
About the Contributor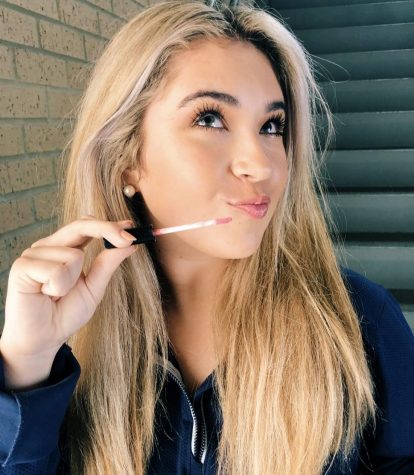 Elise Noelle Cope, Staff Writer
Hi you guys, I am Elise Noelle Cope! I am a senior this year and have attended Ascension throughout my whole school career. This is my first and final year in journalism as a staff writer, so it's pretty bittersweet. I have religiously gone to YoungLife get-togethers and have participated in clubs here at Ascension, such as Cupcakes for Causes and SADD. In my downtime, I design clothes in my sketchbook and bring them to life using my sewing machine! I am eagerly anticipating college so I can further pursue my passion for Fashion Journalism. Also, I am big on friendship, so I am constantly hanging out with my friends and family! I absolutely love to write, so I am very excited to partake in 
The Authored Ascension
!