National Recap
Just two weeks ago, the Gator Jazz Nationals Team returned from our weekend at the DTU Nationals in Orlando, FL. It was a trip filled with many great memories, experiences, and a lot of hard work. This team is such a special group of dancers, and I'm so glad to have had this amazing opportunity with them. We had such a good Nationals season this year, and it was so much fun to share everything we worked so hard for in front of our amazing support system. Camille Simon says, "The tans may fade but the memories will last." 
Here's the recap of our trip: 
We left for Orlando bright and early on Wednesday morning, followed by a team meal at Chipotle, and a tour of our house that night. On Thursday, we headed to Universal for a day filled with fun, rides, and shopping. Our team took on the new rollercoaster, Vellocicoaster, and I think it's safe to say that it was everyone's new favorite ride. On Friday, we had practice mat at 7:30, and then we headed to Studio K for our last real practice. Semi-finalist soloists, Nyla Bernard and myself, also competed our solos Friday afternoon. Saturday began our official competition, as we competed in prelims for both jazz and pom. We advanced straight to finals in both, and celebrated with a trip to Disney Springs that night. Fun fact: Ellie Babineaux spent $135 on stuffed animals alone. The question of the night was, "You're buying more stuffed animals?" On Sunday, we competed in finals, placing 2nd in pom out of 31 teams and 4th in jazz out of 36 teams. There were so many amazing teams at DTU this year, and it was so great supporting these teams and getting to watch all of the talent they brought to the stage.
Overall, I would say that this trip was definitely one of the most fun I've ever been on. It was great to bond with the team and to have so much fun, while also being able to show our dedication and friendship through our performances on the stage. It was so nice to be fully in person this year, which truly made the experience that much better. I am very thankful for this team and the opportunities it has given me throughout high school. Being able to lead this team as captain was a blessing, and I'm so glad I get to end my dance career on such a good note.  
Leave a Comment
About the Contributor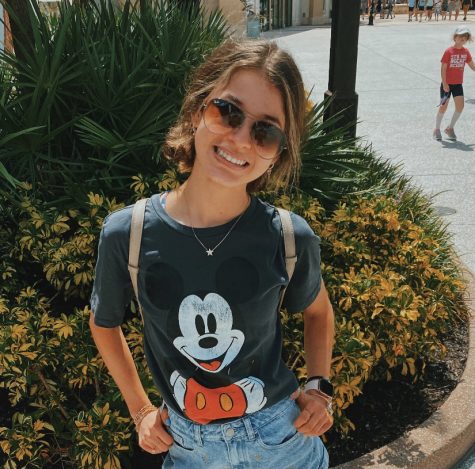 Emily Hebert, Staff Writer
Hey y'all! My name's Emily Hebert and I will be a senior at Ascension this year. I have been at Ascension since 8th grade and have been a part of the dance team since I moved here. I'll be captain of Gator Jazz this year, and I hope to also participate in different clubs and other fun school activities throughout the year. I love going to Disney World, spending time with family and friends, reading, and shopping. I am so excited to be a staff writer this year!