21-22 Varsity Cheerleading Season
The varsity cheer team started off their season by having summer workouts starting at 8 am. The squad then attended UCA camp at ULM where they learned many different cheers, dances, and stunts. As the summer ended and the school year began, practices started again, on Tuesdays and Thursdays from 3-5. At these practices, the squad practiced for football games, basketball games, and pep rallies. 
The varsity cheerleaders cheered at every football game except the first one because the bus ran out of gas. SK West said one of her favorite memories is, "the bus breaking down on the way to the football scrimmage and we all got out of the bus and warmed up our stunts in a random person's yard." One of the many football traditions that the cheerleaders have is going to meet the other team's cheerleaders during the 3rd quarter. Ellie Hullin said, "I love to meet the other cheerleaders and dance with them." 
This year, the cheerleaders decided to not compete at regionals or nationals and to focus on cheering at the football games, basketball games, and pep rallies. Currently, the cheerleaders are focusing on basketball season and the pep rallies coming up. For basketball games, the team is split into two separate teams, the blue team and the white team. The next event that the cheerleaders are looking forward to is the Spring pep rally. It is so much fun raising the spirit of everyone on campus. Go Blue Gators!
Leave a Comment
About the Contributor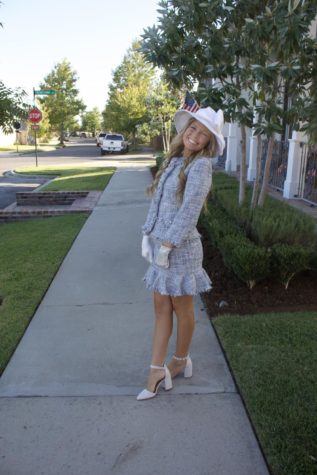 Greta Leoni, Assistant Editor
Hey, y'all! My name is Greta Leoni, and I am a senior this year. I have been at Ascension since Pre-K3 and during those 15 years, I have been a part of the cheer, basketball, and volleyball teams. I also have been a part of clubs such as Cupcakes for Causes and Beads for Needs while at Ascension. I enjoy hanging out with my friends and family, watching movies, and shopping. This is my second and last year in Journalism, and I am so excited!