Senior Spotlight: Gracie Ann Babineaux
Name: Gracie Babineaux
Grade Started at Ascension: 9th Grade
Favorite Teacher: Coach Matt Desormeaux
Favorite Ascension Memory: Big Cheese performing the "shoot" dance to "Minecraft On My Mind" for all of Mrs. P's Class.
Future Plans: To attend either Louisiana State University or The University of Alabama to major in Psychology with the intention of becoming a child psychiatrist.
---
Gracie Babineaux has been a participant of Food Club, SADD (Students Against Destructive Decisions), Beads for Needs, Truth, Facts, and Lies, Beta Club, Journalism, Leadership, Lifeteen, and YoungLife, and she is our Varsity Cheer Captain. Before transferring to Ascension, Gracie knew that she wanted to surround herself with individuals who wanted to be surrounded by her and welcome her with open arms for who she is as a person. So, when she toured Ascension, she immediately knew it was exactly where she was supposed to be, so it was the easiest decision. Gracie truly believes that Ascension has shaped her into the woman she is today, and she believes that this school inspires her to be gentle, generous, truthful, kind, and brave. Though it hasn't always been easy, everything she has learned during her years at Ascension is completely unforgettable! 
Ever since Gracie's first day of cheer practice, freshman year, she's always felt so appreciated and included by her fellow teammates. Being a fairly new student, in general, is quite a struggle, but it is significantly more difficult during high school. However, Gracie has been able to create lifelong friendships while playing the very sport that she loves. Being selected as captain of the Varsity Cheer Squad has been such an honor, and she continues to cherish every second of it. Gracie loves each and every one of the coaches and the girls who have made her job so much easier and more pleasant! Also, Gracie wants to thank her parents for giving her the opportunity and the support to ease her transition from St. Pius to Ascension Episcopal School. She spends 99% of her time with her family, so she can only imagine how much of an impact they have had on her life. Her mom, Missy Babineaux, is her role model; her dad, Chad Babineaux, is her biggest inspiration; her brother, Nick Babineaux, is her all-time cheerleader, and her sister, Ellie Babineaux, is her partner in crime. 
Leave a Comment
About the Contributor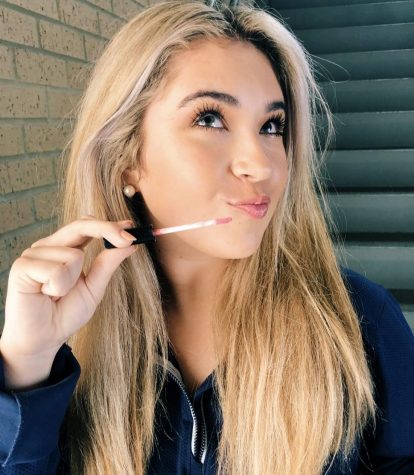 Elise Noelle Cope, Staff Writer
Hi you guys, I am Elise Noelle Cope! I am a senior this year and have attended Ascension throughout my whole school career. This is my first and final year in journalism as a staff writer, so it's pretty bittersweet. I have religiously gone to YoungLife get-togethers and have participated in clubs here at Ascension, such as Cupcakes for Causes and SADD. In my downtime, I design clothes in my sketchbook and bring them to life using my sewing machine! I am eagerly anticipating college so I can further pursue my passion for Fashion Journalism. Also, I am big on friendship, so I am constantly hanging out with my friends and family! I absolutely love to write, so I am very excited to partake in 
The Authored Ascension
!