My Top 10 Favorite Christmas Songs
10. "I Saw Mommy Kissing Santa Claus" by the Jackson 5
It's on my list because it's catchy, and it's by the Jackson 5.
9. "Mele Kalikimaka" by Bing Crosby 
Bing Crosby's voice is very peaceful.
8. "Underneath the Tree" by Kelly Clarkson
This song sounds like" All I Want for Christmas is You." It could have been a bit more original, but it's still a nice song.
7. "Santa Claus is Coming to Town" by the Jackson 5
It's a Christmas classic that has been enjoyed by many generations, including myself.
6. "White Christmas" by Bing Crosby, Ken Darby Singers, and others
This song just brings me back to my childhood when I still believed in Santa. It's also in a good bit of Christmas movies.
5. "Have Yourself A Merry Little Christmas" by Frank Sinatra
This song just reminds me of snow and everything wonderful about Christmas. His voice is outstanding, and it's just a good Christmas song all around.
4. "You Make It Feel Like Christmas" by Gwen Stefani (feat. Blake Shelton)
It's vibrant and lively. The song makes you want to listen to it on repeat. It's not ranked as high because I think the song could have been better with a different female voice.
3. "Last Christmas" by Wham!
This song is a Christmas classic. It's catchy, but it's a little slow for me. That's why it is not higher on this list. I feel like it's for older people.
2. "Santa Tell Me" by Arianna Grande
This song is amazing, and it's by one of the most talented artists today. Her vocal range is astounding and the song will be stuck in your head all day.
1. "All I Want for Christmas is You" by Mariah Carey
The reason why I ranked this song so high is because it hits all the criteria for the perfect Christmas song. It's catchy and light hearted. There is a reason why Mariah Carey has made around 2.6 million dollars per year since 1994 just from this song.
Leave a Comment
About the Contributor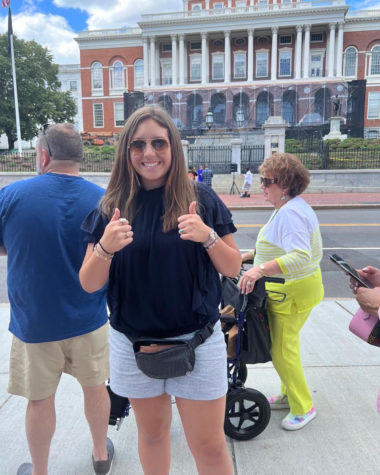 Caroline Ortemond, Assistant Editor
Hi everyone! My name is Caroline Ortemond. This is my second year being a member of Journalism. This year I am an assistant editor, and I love my journalism team. I am a member of the basketball and softball teams. I enjoy reading, writing, and art. I love Ascension and all of its opportunities. I am the co-founder of a club and a member of multiple youth groups. I can't wait to see what this year has in store for the Journalism group.