73 Questions with Ellie St. Claire Hulin
On a scale of 1-10, how excited are you about life right now?

8.5/10.

Describe yourself in a hashtag?

#sofetch

Who's your celebrity crush?

Ryan Gosling! Major heart eyes!

If you could raid one woman's closet, who would it be?

Barbie's Closet, 100%.

What's one thing people don't know about you?

I've met Scott Disick in Miami, and he's even more boujee in person. 

What's your morning routine?

I wake up and begin my morning by eating some breakfast, then I brush my teeth and throw on my school uniform, leave to pick up one of my best friends Coco and last but certainly not least, we make our way to vibe for energy teas. 

What's your nighttime routine?

A luxurious bubble bath while binge watching

Gossip Girl

, obviously.

What's your favorite time of day?

Around 7:30 p.m. on weekdays and noon on weekends solely because I enjoy Saturday shopping during lunchtime when the weather is usually gorgeous.

Dream country to visit?

Paris, France.

What's the biggest surprise you've had?

When I turned 15, my girlfriends threw me a huge surprise party. 

Heels/flats or sneakers?

Sneakers.

Vintage or new?

New.

Style Icon?

Serena Van Der Woodsen from

Gossip Girl

because I'm all about the preppy fits.

Your Idol?

My Nana.

What are 3 things you can't live without?

My family and friends, Netflix, and a good ole Captain America energy tea.

 What's one condiment you put on everything?

Ranch dressing.

What 3 people living or dead would you like to have dinner with?

My brother, Ariana Grande, and Marilyn Monroe.

What's your biggest fear in life?

Death.

Window or Aisle Seat?

Window.

What's your current TV obsession?

Gilmore Girls

.

Favorite App?

Tik-Tok.

Secret Talent?

I can imitate Shakira a little too well. 

Most adventurous thing you've done in your life?

I went scuba diving in Mexico around the age of 12.

How would you define yourself in three words?

Joyful, kind, and loving.

Favorite piece of clothing you own?

My pink Amanda Uprichard sleeveless saffron dress.

Must have clothing item everyone should have?

A comfortable pair of back leggings.

Superpower you would want?

Flying.

What's inspiring you in life right now?

Inching closer and closer to Christmas. 

Best piece of advice you've received?

Don't allow anyone to steal your joy.

Best advice you'd give your younger self?

Don't take anyone or anything for granted.

What's a movie that everyone should see?

Legally Blonde

.

What would you like to be remembered for?

My kind heart towards myself and also others.

How do you define beauty?

The way that you love yourself and also others.

Best way to rest/decompress?

A relaxing bath. 

What's your go-to karaoke song? "

You Belong With Me" by Taylor Swift.

If you could master one instrument, what would it be?

The drums.

If you had a tattoo, where would it be?

Either behind my ear or somewhere on my finger.

Dolphins or koalas?

Dolphins, all the way.

What's your spirit animal?

A unicorn.

Best gift you've ever received?

My Jeep Wrangler.

Best gift you've ever given? ​​

A box that was full of reasons why I love my friend, Katherine, for her birthday. 

What's your favorite board game?

Candyland.

What's your favorite color?

50 shades of pink!

Least favorite color?

Booger green.

Diamonds or pearls?

Diamonds, because they are a girl's best friend!

 
Drugstore or high-end makeup?

High-end.

Blow-dry or air-dry?

Air-dry, I'm too lazy for blow-drying. 

Pilates or yoga?

Yoga.

Coffee or tea?

Teaaaaaaaaaa!

What's the weirdest word in the English language?

Moist.

Dark chocolate or milk chocolate?

Milk Chocolate.

Stairs or elevator?

Elevator.

Winter or Spring?

Winter.

Summer or Fall?

Fall.

You are stuck on an island, you can pick one food to eat forever without getting tired of it, what would you eat?

Chicken Alfredo.

A desert you don't like?

Cheesecake.

A skill you're working on mastering?

Procrastination. 

Best thing to happen to you today?

Realizing that we are gaining on Christmas urged me to listen to holiday music because I am super hype for winter. 

Worst thing to happen to you today?

Waking up with a stuffy nose.

Best compliment you've ever received?

You were born to be famous.

Favorite perfume?

Cloud by Ariana Grande.

Hugs or kisses?

Kisses, solely because I am not the biggest fan of physical touch.

If you made a documentary, what would it be about?

My relationship with my step dad because he is constantly my number one supporter and is in my life for the long haul.

Last piece of content you consumed that made you cry?

"Bailey and Asa's OFFICIAL WEDDING VIDEO"

Lipstick or lip gloss?

As Serena Van Der Woodson says, "Lipstick lasts longer, but gloss is more fun."

Sweet or savory?

Savory.

Song you can listen to on repeat?

"The Weekend" by Calvin Harris and SZA.

If you could switch lives with someone for a day, who would it be?

Paris Hilton.

What are you most excited about at this time in your life?

Getting to watch my nephew grow up.

Your go-to for having a good laugh?

Definitely my mom or my nana. 

Your affirmation for today?

I am heavily loved.

Leather or lace?

Leather.

What's your guilty pleasure?

Glee

.



Leave a Comment
About the Contributor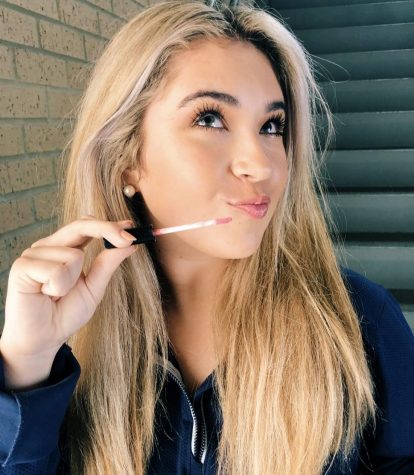 Elise Noelle Cope, Staff Writer
Hi you guys, I am Elise Noelle Cope! I am a senior this year and have attended Ascension throughout my whole school career. This is my first and final year in journalism as a staff writer, so it's pretty bittersweet. I have religiously gone to YoungLife get-togethers and have participated in clubs here at Ascension, such as Cupcakes for Causes and SADD. In my downtime, I design clothes in my sketchbook and bring them to life using my sewing machine! I am eagerly anticipating college so I can further pursue my passion for Fashion Journalism. Also, I am big on friendship, so I am constantly hanging out with my friends and family! I absolutely love to write, so I am very excited to partake in 
The Authored Ascension
!