A Passion for Makerspace
Makerspace is a one-semester elective offered to the students at Ascension that serves as a creative outlet and motivational environment promoting imaginative thinking. Throughout the semester, the students are challenged to make their own passion project. The point of this passion project is to build or create something that will serve a purpose that is significant to you and your life. You are also able to choose a mentor to help you with your project and give you insight and helpful tips on how to improve or strengthen your idea. Mrs. Guidry and Mr. McClymont, the teachers of Makerspace, gave my class 3 weeks to work on our projects, and then we all took turns presenting last week.
My passion project was a selective coloring photo book. I chose this because I have always loved photography and editing, and I have been surrounded by it for most of my life. My mentor was my dad, as this is where I learned most of my camera and editing skills and found my love for taking pictures. With this project, I was able to learn more about editing because I used a new software called Lightroom to edit all my pictures. I also learned how to make a book digitally, and increased my artistry with different formats and captions. Overall, I had a great time working on my passion project, and I thought it was a great way to incorporate things we love into a school assignment. 
My classmates' passion projects also turned out very successful. Adele Mooney created a sunshine mosaic in honor of her great grandmother (picture to the right). When asking her how she felt about the project, she said, "I truly enjoyed the passion project. I believe it helped me open my eyes to using what I know from art and basically built my art project with items not involving paint or markers. I enjoyed how I was able to make a project that was meaningful to me, and my mom, whom I made my project for." Drew Lee created a boot and wader rack for his second passion project to help organize his shoes and hunting clothes. His mentors were his grandparents. Drew loves to build things, so he enjoyed working on his passion project and said, "Makerspace gives me a distraction from school."
I would say this was a great project to stimulate our innovative sides and teach us to think in ways we wouldn't normally think. It helped us to develop more problem-solving skills by coming up with a project to make that would help us overcome obstacles or provide us with something meaningful. 
Leave a Comment
About the Contributor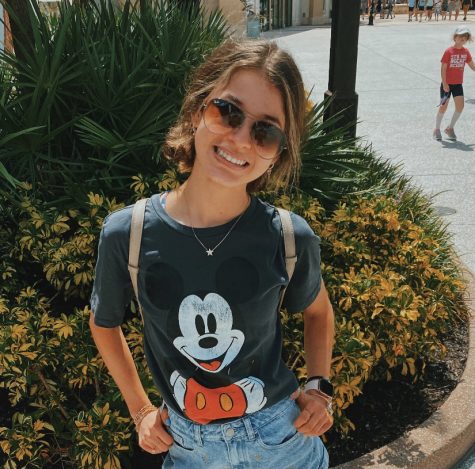 Emily Hebert, Staff Writer
Hey y'all! My name's Emily Hebert and I will be a senior at Ascension this year. I have been at Ascension since 8th grade and have been a part of the dance team since I moved here. I'll be captain of Gator Jazz this year, and I hope to also participate in different clubs and other fun school activities throughout the year. I love going to Disney World, spending time with family and friends, reading, and shopping. I am so excited to be a staff writer this year!