Man's Blessed Friends
Blessing of the Pets is a favorite of students in all grades at Ascension. Bringing your pet to school and seeing everyone else's makes this a memorable day, time and time again, and this year was no different. Shortly after the event, I asked a selection of upper school students about their thoughts and feelings about this year's Blessing of the Pets. 
#1: What are your thoughts on Blessing of the Pets? 
Sophomore Chloe Ste. Marie said, "I think this is a really fun little thing we do each year! It's awesome to see all the animals people bring." Junior Kendalyn Morgan added, "Blessing of the Pets is such a fun event that Ascension puts on every year. Everyone looks forward to the horses, baby pigs, and all kinds of dogs. It is a great event that is such a good way to end the day!" Junior Aubrey Womack stated, "I think Blessing of the Pets is great because we don't typically think about blessing our pets so it's really cool to see Ascension incorporate our pets!" One final student, senior Grace Fontenot, thought that, "Blessing of the Pets was the best way to end a Friday! It was so fun and amazing to see so much joy among all students and their animals that day!" 
#2: What is your favorite part of Blessing of the Pets? 
Sophomore Layne Simon's favorite part was seeing the horse and the pig. Junior Luke Guidry's favorite part was "being able to see all the students' pets, and I really like the idea because every year there are always new animals that are able to be blessed." Chloe Ste. Marie's favorite part  was "seeing all the unusual pets, like Caroline's pig, or Ashton's horse." Grace Fontenot said that it was "definitely the pig I got to pet," and Aubrey Womack's highlight of the event was "either all of the kittens or seeing my friends' pets that I haven't seen in a while!" Tatum loved the little pig and the baby kittens, and Kendalyn Morgan's favorite was "definitely the basket of kittens. After a long school day, who doesn't want to cuddle with kittens?" It seems like SMP has reached the consensus that Caroline's pig, Ashton's horse, and the basket of kittens were the favorites of Blessing of the Pets this year. 
#3: What do you love the most about Blessing of the Pets? 
Layne Simon said she loves that "Ascension knows that pets are important," and Chloe Ste. Marie loves that "everyone sort of drops their cliques just to see everyone's pets." Kendalyn said that she loves Blessing of the Pets because "it is a great way to involve the Ascension community in school life," and Tatum Landry added that she loves "seeing all of the animals and how happy they make people." Aubrey Womack loves that "so many people participate and bring their animals! It's just one of the many things that makes Ascension the great and unique place that it is!" Finally, Grace Fontenot said, "I love Blessing of the Pets because pets are such an important part in the lives of many students. Pets bring such delight and love into the world, so being able to see students with their pets at the school was amazing!" Blessing of the Pets is a beloved Ascension tradition that students anticipate every year, and it seems like this year was another success!
Leave a Comment
About the Contributor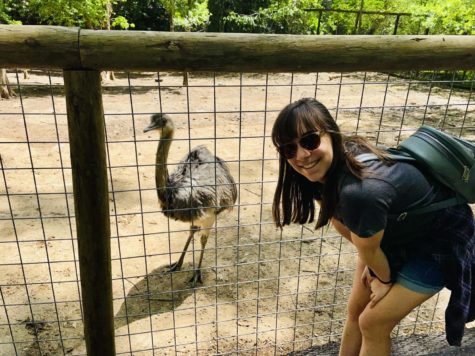 Ella Dupuie, Editor-in-Chief
Hey guys! My name is Ella Dupuie, and I'm a senior this year. I've been at Ascension since 5th grade, and have loved every minute of it. This is my third year writing for the Authored Ascension, and I am the editor-in-chief of the Authored Ascension and the yearbook! I am on the Ascension swim team, and in my free time I love to read and binge TV shows on Netflix.