73 Questions with Ellie Faye Babineaux 
On a scale of 1-10, how excited are you about life right now?

9/10.

Describe yourself in a hashtag?

#angelonearth

Who's your celebrity crush?

Chase Crawford.

If you could raid one woman's closet, who would it be?

Kendall Jenner.

What's one thing people don't know about you?

I've been to 5 different schools, including home-schooling.

What's your morning routine?

I wake up around 7:00 a.m, I brush my teeth, brush my hair, put mascara on, get dressed, put perfume on, but most importantly, I cannot start my day without coffee or an energy drink. 

What's your nighttime routine?

I go to bed around midnight after I eat dinner and spend time with my family, shower, complete my skincare routine, and finish all of my homework.

What's your favorite time of day?

Golden Hour.

Dream country to visit?

Lake Como, Italy.

What's the biggest surprise you've had?

Getting a new Australian Shepherd puppy. 

Heels/flats or sneakers?

Sneakers.

Vintage or new?

New.

Style Icon?

Zendaya.

Your Idol?

My Mom, Missy Babineaux.

What are 3 things you can't live without?

Family and friends, mascara, and my phone.

 What's one condiment you put on everything?

Chick Fil A Sauce.

What 3 people living or dead would you like to have dinner with?

Audrey Hepburn, Emma Watson, and Lauren Graham.

What's your biggest fear in life?

Heights.

Window or Aisle Seat?

Aisle.

What's your current TV obsession?

Gilmore Girls.

Favorite App?

TikTok.

Secret Talent?

I've been able to play the flute since 5th grade. 

Most adventurous thing you've done in your life?

Sky Scraping.

How would you define yourself in three words?

Spunky, Charismatic, and Loyal.

Favorite piece of clothing you own?

My light pink LoveShackFancy dress.

Must have clothing item everyone should have?

Mom Jeans.

Superpower you would want?

Mind Reading.

What's inspiring you in life right now?

Dance.

Best piece of advice you've received?

It's the little things in life that are the most important.

Best advice you'd give your younger self?

Don't worry so much about the superficial things in life.

What's a movie that everyone should see?

Christopher Robin.

What would you like to be remembered for?

How I made anyone and everyone always feel included and like they are a part of something. 

How do you define beauty?

Beauty is within the heart, not what meets the eye.

Best way to rest/decompress?

Journal.

What's your go-to karaoke song?

Ordinary Girl by Hannah Montana (aka Miley Cyrus).

If you could master one instrument, what would it be?

The piano. 

If you had a tattoo, where would it be?

A tiny one on my wrist. 

Dolphins or koalas?

Dolphins 100%.

What's your spirit animal?

An elephant.

Best gift you've ever received?

A pair of Golden Goose sneakers.

Best gift you've ever given?

A Louis Vuitton purse to my mom.

What's your favorite board game?

The Game of Life. 

What's your favorite color?

Hot pink.

Least favorite color?

Brown.

Diamonds or pearls?

Diamonds. Very sparkly ones!

Drugstore or high-end makeup?

High-end makeup.

Blow-dry or air-dry?

Air-dry.

Pilates or yoga?

Pilates.

Coffee or tea?

Coffee.

What's the weirdest word in the English language?

Moist.

Dark chocolate or milk chocolate?

Milk Chocolate.

Stairs or elevator?

Stairs. I actually have a huge phobia of elevators.

Winter or spring?

Spring.

Summer or fall?

Summer.

You are stuck on an island, you can pick one food to eat forever without getting tired of it, what would you eat?

Ice cream because of their variety of different flavors.

A desert you don't like?

Cheesecake.

A skill you're working on mastering?

Thinking before I speak.

Best thing to happen to you today?

This interview. 

Worst thing to happen to you today?

My math test.

Best compliment you've ever received? "

Seeing you today, just made my day."

Favorite perfume?

Coco Chanel.

Hugs or kisses?

Hugs.

If you made a documentary, what would it be about?

Losing Mrs. Kathryn Howard.

Last piece of content you consumed that made you cry?

The Dolan twins documentary called "Losing a Best Friend." 

Lipstick or lip gloss?

Lip gloss is always more fun. 

Sweet or savory?

Sweeeeeeeet.

Song you can listen to on repeat? "

Tattooed Heart" by Ariana Grande. 

If you could switch lives with someone for a day, who would it be?

Olivia Rodrigo.

What are you most excited about at this time in your life?

My birthday? Gracie's Birthday? Christmas!

Your go-to for having a good laugh?

The movie,

Dodgeball.

Your affirmation for today?

I am worthy of love.

Leather or lace?

Leather.

What's your guilty pleasure?

Disney movies.
Leave a Comment
About the Contributor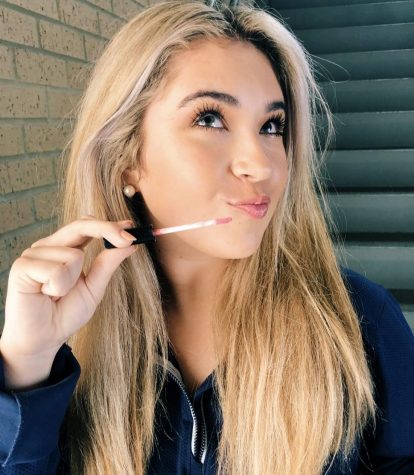 Elise Noelle Cope, Staff Writer
Hi you guys, I am Elise Noelle Cope! I am a senior this year and have attended Ascension throughout my whole school career. This is my first and final year in journalism as a staff writer, so it's pretty bittersweet. I have religiously gone to YoungLife get-togethers and have participated in clubs here at Ascension, such as Cupcakes for Causes and SADD. In my downtime, I design clothes in my sketchbook and bring them to life using my sewing machine! I am eagerly anticipating college so I can further pursue my passion for Fashion Journalism. Also, I am big on friendship, so I am constantly hanging out with my friends and family! I absolutely love to write, so I am very excited to partake in 
The Authored Ascension
!