Super Dardar
At Ascension, everyone knows who "Chrispy" is. If you don't know him, he is the legendary Coach Chris Dardar. Coach Dardar has been part of Ascension for 16 years. Not only is he a great Campus Director but also a great math teacher. Every day "Chrispy" greets students in sarcastic ways such as "get to class" , "you're late", and "WHAT ARE YOU DOING?" He knows how to brighten the students' day with a simple yell. It can be agreed upon by everyone who goes to Ascension that Dardar is known for spontaneously walking into classrooms to stare at all the students and randomly leave. Even though he is effortlessly hilarious, he has a soft spot for every student at Ascension. He is one of the most selfless faculty members at the school that does care not only about Ascension but the Ascension Family. 
"Chrispy" has a great relationship with the student body; he is very easy to talk to, students know they can go to him for anything. Dardar makes Ascension a safe place and a home; he is truly a great role model to the students and administration. Senior Ashley Gill said, "My favorite thing about Chrispy is that he gets to know every student and who they are. He also makes some good burgers at his restaurant. He's a great campus director because he knows exactly what our school needs to thrive and be happy."
Coach Chris Dardar is the backbone of what makes Ascension a great place; he will be greatly missed among the student body and administration next year. However, he is not saying goodbye to the Ascension family just yet. Senior Andre Perron said, "Coach Dardar seriously is unlike any other administrator I have ever had guiding me in an academic setting. One of the major things I do appreciate about him is that he somehow tolerates all my nagging about allowing us to have a spirit day, more free dress, and everything else I can ask him about. When I have to say goodbye to Dardar at graduation, I don't think I'll ever stop crying. What an icon, Coach Dardar, what an icon." 
Leave a Comment
About the Contributor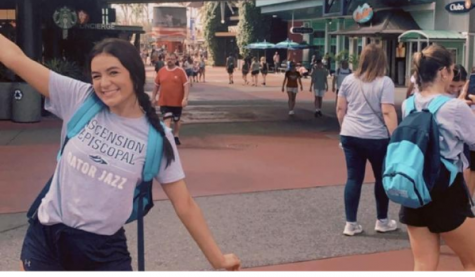 Grace Morgan, Staff Writer
My name is Grace Morgan, I am a senior at Ascension Episcopal School. I have been on the Ascension's competition Gator Jazz team since 8th grade year. I am really excited to make fun memories with my class one more year.