Christmas During Covid
Due to Covid-19, a lot has been uncertain this year, and many things that we have been looking forward to have been canceled or changed. There are many mandates in place, restricting both travel and gatherings, and this holiday season will be a time of adjustments and modifying plans. With Christmas quickly approaching, I asked a handful of students how Covid has affected their Christmases, and whether this virus has made them change their plans.  
Some students have simple plans to stay home and spend a quiet Christmas without having to worry about Covid. Freshman James Foreman said that his plans include "having my sisters over to open presents, eat, go to our camp, and just lay low this year." Another student, sophomore Norman Brown, said that his plans are tentative, and that his family doesn't really have any plans, but that they may just stay home because of Covid. One final student, junior Caroline Novak, said that "My family is still going to try to do Christmas the way we do it every year. We are going to my grandmother's house for Christmas along with some of my cousins, uncles, and aunts!" Although this year has been very unpredictable, many people have found a way to keep their traditions and celebrate Christmas without worrying about Covid. 
Though there are several people whose plans have not changed this year, the majority of those that I talked to have had to alter their traditions this year. When asked about her plans for this year, senior Ashtyn Raxsdale said, "Every Christmas Eve, we usually have a really big get together with my mom's side of the family, but this year we had to cancel because of Covid. Nevertheless, we are still keeping the Christmas spirit through our family traditions like decorating, watching movies, making fudge, and cooking on Christmas Day." Another student whose Christmas has undergone a change is freshman Gabriela Del Toro, who said, "Because of Covid, my dad has to work on Christmas due to the rise in cases in Lafayette, so my mom, sister, and I have to spend Christmas just the three of us." Sophomore Aubrey Womack's plans have also been altered, as she said that "Normally, my mom and I have a tradition of going to see the Nutcracker together, but because of Covid, we're watching it virtually!" These are just some of the students whose Christmases have had to change this year, and there are a number of others as well. 
Several other students have told me that their plans have changed this year, including  sophomore James Shelton, who said that "my aunt is going up to England to visit my sister but because of Covid, I will be staying home and spending Christmas with my grandparents." One final student, junior Cole Lemoine, said, "Normally we have 40-50 people at Christmas at my aunt's house but this year we have a few people who are concerned and some who aren't. We aren't doing presents this year but we'll still have food, and it'll be a smaller crowd on Christmas Day since most people are sticking with direct family. It'll be strange, but at least it's still Christmas." Though this year has been stressful and full of uncertainty, people are finding ways to adapt to the change and make the most out of this Christmas.
Leave a Comment
About the Contributor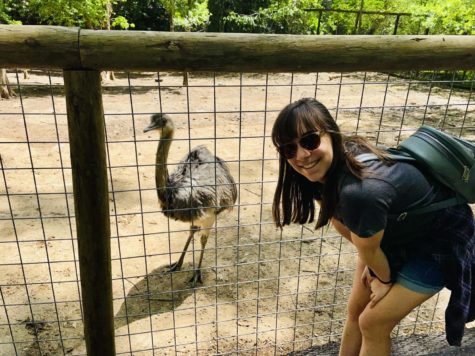 Ella Dupuie, Editor-in-Chief
Hey guys! My name is Ella Dupuie, and I'm a senior this year. I've been at Ascension since 5th grade, and have loved every minute of it. This is my third year writing for the Authored Ascension, and I am the editor-in-chief of the Authored Ascension and the yearbook! I am on the Ascension swim team, and in my free time I love to read and binge TV shows on Netflix.