Cheerleading Tryouts 2020
As students return from Mardi Gras break, Ascension held cheer tryouts for JV and Varsity cheer squads. The tryout classes took place on Monday (3/2) and Tuesday (3/3), with tryouts held on Thursday (3/5). During the prep classes girls entering grades 8-12 were drilled in a cheer and dance choreographed and taught by the current seniors on Varsity. The girls trying out are also coached in motion technique, jumps, and kicks.
During Monday's clinic the girls first learned the cheer and dance as a group, then broke off into senior-led small groups to drill the material. Junior and Dancing Diva champion Claudia Jones said, "I love the dance this year because it's to a mix of 'Formation' by Beyonce, and it is super fun to learn." At the end of the day girls were called back to the mat to meet with Mrs. Bourque to discuss tryout order, scoresheets, and what to wear on tryout day.
When Tuesday rolled around, the girls were put into small groups that rotated to twenty minute stations focusing on cheer, dance, run out, and kicks and jumps. They were also fitted for camp uniforms. Senior captain Faith Robinson worked with tryout participants on kicks and jumps. She said, "All of the girls were so dedicated to perfecting their jumps before tryouts. They have come such a long way, and I'm so proud of them."  The girls were given Wednesday off to prep for the day ahead. 
On tryout day the girls met in the foyer of the gym to warm up and run through the cheer and dance one last time. When it came time to try out, the girls spirited into the gym to judges where they threw their tumbling, performed the cheer, and danced with a partner. Girls were judged on their runout, cheer, dance, and overall impression. 
A second try out will be held in August for the JV Squad. Varsity is as follows:
2020-2021 Varsity
Audrey Abshire ('21)
Gracie Babineaux ('22)
Alexandra Bernard ('24)
Olivia Bradley ('22)
Estelle Broussard ('21)
Meghan Colomb ('21)
Jeanne Claire Franques ('24)
Hollyn Hebert ('23)
Claudia Jones ('21)
Greta Leoni ('23)
Josie McBride ('21)
Ella Meche ('24)
Mamie Mendell ('24)
Catherine Poole ('22)
Blair Richard ('21)
Meredith Trahan ('21)
Sarah-Katherine West ('23)
Aubrey Womack ('23)
Leave a Comment
About the Contributor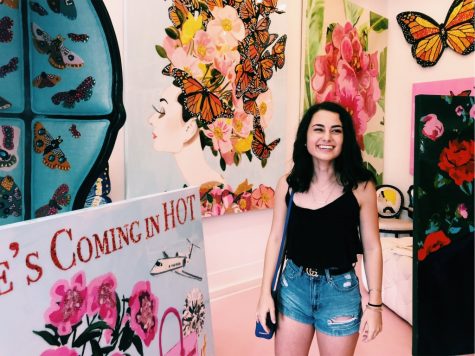 Piper Blancher, Copy Editor
Hey, guys, my name is Piper Blancher and I am a senior here at Ascension. I love all things writing and fashion, and I dream of one day writing for Vogue magazine in New York City. I am an active member of Varsity cheerleading, Students Against Destructive Decisions, Younglife and Copy Editor of the yearbook and The Authored Ascension.