It's Beginning to Look a Lot Like a Blue Gator Christmas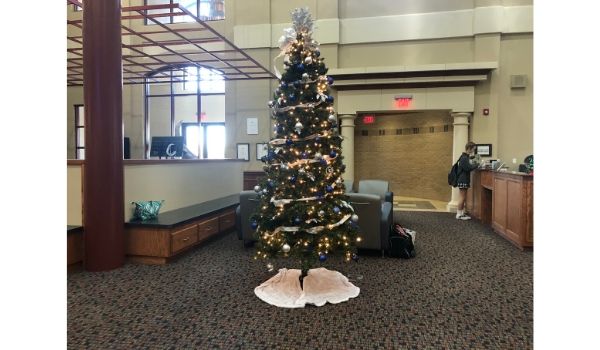 As you may know, Christmas is coming up, and with that comes many festivities. At Ascension, we like to celebrate. They throw several Christmas themed events, such as the drive-in movie where we watched "Elf" and they served us gumbo, cookies, and hot chocolate. We try to lessen the sting of midterms by having many Christmas-themed decorations out around the school, even in the little ways such as playing "Drummer Boy" by Justin Bieber as our transition music. 
In the past years, each student has made an ornament for the tree with a picture of themselves to hang on it, but this year the leadership class decorated it. It is in the library where everyone sees it right when they walk in. They decided to make it a blue theme to match the school colors and promote school spirit. When asked about how she felt about the decorations her students hung up, Mrs. Robert responded "Yes, fine, it's good. We had just wanted to do some Christmas banners, but with finals we didn't have time. They did a fantastic job with the time we had though." Also, you have probably seen the lights strung around campus in the library that give Ascension that extra cozy and spirited feeling. 
This year, you may have noticed the paper trees hung on each teacher's door. This is hung there for them to decorate themselves, to promote the Christmas spirit. When Emma Guidry was asked about how she felt about the trees hung on the door, she said "As someone tasked with cutting the trees out it definitely got me in the Christmas spirit, especially when 'Drummer Boy' began to play as our transition music." 
Leave a Comment
About the Contributor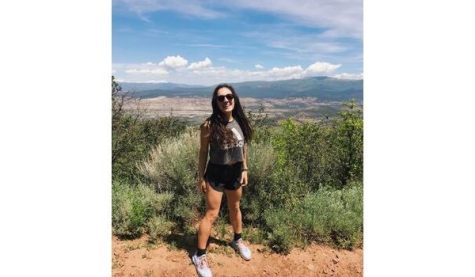 Emmie Gage, Staff Writer
Hey, I'm Emmie! I'm a senior at Ascension, and I've been here since kindergarten! In my free time, I love to play tennis, and I'm on the school team. When I'm not on the court, I love hanging out with my friends and traveling.