River Ranch Blessing of the Pets (As Seen Through a Senior's Eyes)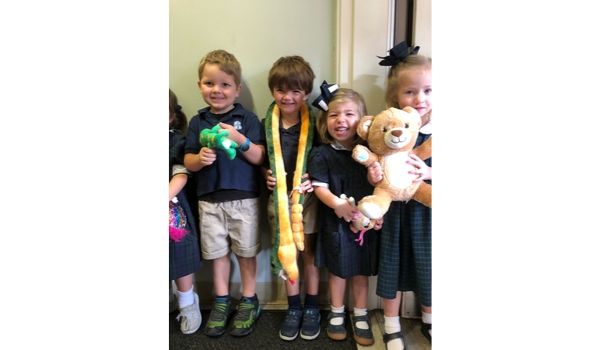 Undoubtedly, among the cutest traditions at Ascension is the Blessing of the Pets. For yearbook pictures, a few people from my class and I got the privilege of going to watch the Blessing of the Pets ceremony at the Little Red School in River Ranch, and take pictures for the yearbook. Blessing of the Pets means that the students at the River Ranch campus get to bring their favorite stuffed animal, and Father Daly has them hold up their beloved pets as he blesses them. They were very eager to share their favorite animals. When asked what her favorite animal is, kindergartener Michal Beatle responded "My favorite animal is a tiger," and when asked what the name of her pet is, she responded "Stripes." In fact, all of the River Ranch students were super creative with the names, such as "Puppy-dog" and "Lamby."
Unfortunately, the tradition of Blessing of the Pets was started after I had left the Little Red school,when I was in about 4th grade. Putting myself in their shoes, I probably would've looked forward to this day every year. I already know which stuffed animal I would bring every year, a stuffed rabbit named Crystal. I made her at Build-a-Bear and I would have DEFINITELY dressed her up in my favorite pink dress that I bought for her, with the matching shoes of course. 
Visiting the little campus as a senior really puts life in perspective. It brought back so many memories of what life was like when we were young, and it feels like yesterday that we were running around playing on that playground and now we're having to apply to college and decide what we want to major in. When I asked senior Julianne Echelard what she thought about visiting the little campus as a senior, she said "I think it's crazy to think about how fast it all happened, I still feel like I'm 5 years old. Like it literally feels like yesterday." If there is one thing I could tell the little kids it's to enjoy the time they have as a kid and not to rush to grow up and cherish the little red school, because soon they'll be the seniors visiting the campus and reminiscing in the memories they have there.
Leave a Comment
About the Contributor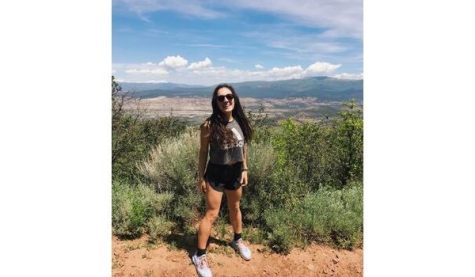 Emmie Gage, Staff Writer
Hey, I'm Emmie! I'm a senior at Ascension, and I've been here since kindergarten! In my free time, I love to play tennis, and I'm on the school team. When I'm not on the court, I love hanging out with my friends and traveling.