New Teachers On The Block (Part 1)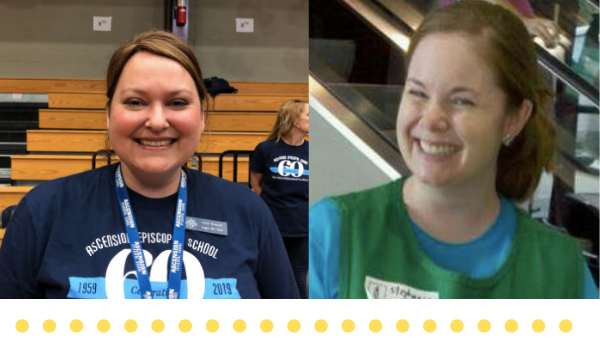 Name: Ms. Stephanie Collins
Years of Teaching: 9
What They Teach: Math
Favorite thing to do in Math: Trigonometry 
Ms. Collins is the new math teacher for dual enrollment courses. When she found out she would be teaching dual enrollment classes, she was super excited because this would be something completely new for her. She likes to teach classes she's never tried before because she enjoys a challenge.  Ms. Collins teaches because she tutored her friends in college and she said "let's give it a shot!" Before teaching math, she was an engineer. When she started teaching math she never looked back. She says the best advice she was ever given on teaching is "to expect that everyday will be different" and to "not only to make mistakes but to learn from them as well." Her favorite thing about being a teacher is that she loves when she mentors a student and they finally gets the students confidence back. 
She came to Ascension because she was ready for a change.  Since coming to Ascension, Ms. Collins says she loves our rolling schedules, how we have two classes then a break, and the use of technology at the school. She says using technology makes life and learning easier. Ms. Collins says Ascension is different from other schools she's been at because "all of the students are striving for excellence and they are always trying to push themselves." She loves the culture of Ascension and she already feels like she is starting to have a family here. Ms. Collins is super excited about her first year at Ascension!
---
Name: Mrs. Heidi Nowicki 
Years of Teaching: 12
What They Teach: Math
Favorite Thing to do in Math: Collaborative work
Mrs. Nowicki is the new eighth-grade math teacher at Ascension. She says, "I have wanted to come to Ascension for a few years now." When I asked her what made her want to come to Ascension she said, "I was drawn here because of the high academic standards, incorporation of Christian beliefs, and the attention to all aspects of a well-rounded child." Her world exploded with technology when she moved to Ascension. She's new to Google Classroom, but she is already falling in love with it. Mrs. Nowicki says she loves the days when students come in and they work collaboratively in small groups and she gets to walk around and watch them help each other learn. 
Mrs. Norwicki says the worst advice she was ever given about teaching was to never smile, but then she said, "to answer your real question, the best advice I was given is to prioritize." The hardest thing about switching to a new school for Mrs. Nowicki was learning and remembering all the student's names. Mrs. Norwicki teaches because "it matters, and I feel like I have a nice way of explaining math to students. There are other things I could maybe do with my life, but I can't think of any within my abilities that are as important as teaching." She feels the most successful when she has parents or students who come to her later and tell her how much her time with them has meant and helped. Mrs. Norwicki already loves Ascension so much and she can't wait to complete her first year!