Super Sweet 16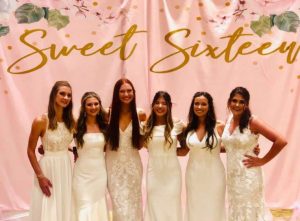 Sugar, Spice, and everything nice! These three words describe our super sweet sophomore girls perfectly. This past Saturday, (March 24th) the annual Sweet 16 birthday party was held in honor of the girls from the class of 2021. The event was located and hosted at the beautiful Le Pavilion. The venue was decorated with beautiful flowers and sparkling lights.
The girls anxiously awaited the start of the event. Every single girl was presented by a loved one and got the chance to walk the runway and show off their beautiful dress. The long white dresses were simply gorgeous.
After the presentation, the sophomore girls and guests gathered around the birthday cake and serenaded the girls with birthday wishes and cheer. Sophomore Grace Roy explained her experience, saying, " I loved bonding with all the girls in my grade, especially those that I don't see that often! Everyone had so much fun dancing, and eating all the food and taking pictures! It was a great night!"
The girls ended the evening with all kinds of sweets! Donuts, cookies and milk, cotton candy and much more. Sophomore Claudia Jones said her favorite part overall was "seeing everyone all dressed up, and its a night I'll remember for years to come." Sophomore Meghan Colomb also added " I loved all of the girls were able to come together and be like a family. Everyone is always so busy that it was nice to see us interacting and working together."
Needless to say, Sweet 16 was a success! Until next year, have a super sweet 16th!