Thanksgiving Feast Was a Success!
You Miss 100% of Leftovers You Don't Eat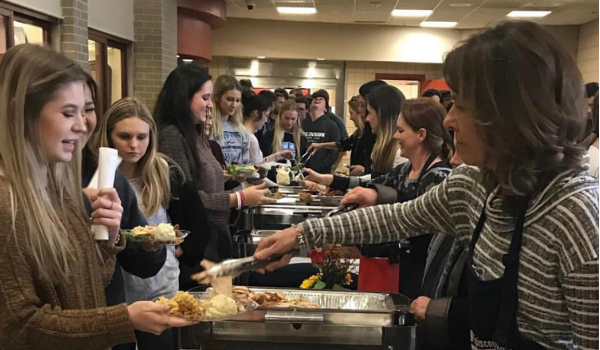 Here are a few surprising fun facts to get you in the mood for Thanksgiving:
There was actually no turkey on the menu at the first Thanksgiving! The menu most likely included deer, venison, ham, lobster, fruit, and squash.

Thanksgiving did not become a national holiday until over 200 years later. In 1863, President Lincoln was convinced to make it a national holiday by Sarah Josepha Hale (The same woman who wrote "Mary Had a Little Lamb.") Ever since Lincoln's decision, Thanksgiving has been celebrated throughout the nation.

There was still a part of Plymouth called Plymouth Plantation that was redecorated to look just as it did when the pilgrims lived there in the 17th century.

Ben Franklin voted for the national bird to be the turkey… imagine that.
This year, the Thanksgiving Feast was celebrated at the SMP campus on Tuesday, November 13. The parents teamed up and organized a delicious, catered meal that included turkey, mac and cheese, mashed potatoes, salad, green beans, and much more. There were also plenty of desserts to choose from after the students were served. After enjoying her meal, junior Emily Menard said that that mac and cheese was "out of this world." Since the sophomores won the competition for the best canned-food sculpture, they were the first grade to receive their food, followed by the seniors, juniors, freshmen and eighth graders. They sat together at tables set with tablecloths and fun Thanksgiving placemats. The students begged for seconds, and the food was gone in no time.
Before the food was served, students from each grade stood up and told everyone what made them thankful. It is encouraging, but not shocking, that the majority of these students were thankful for the family aspect that Ascension brings to the table — excuse the pun! This accepting environment makes a huge difference in the students' lives. Junior Alyse Cormier joined our school freshman year and said, "Ascension has been so accepting, they made it feel like family so fast." No matter what background we come from, it is such a blessing for the students to have a home away from home, and for that, we are very thankful.