Volleyball Senior Night 2018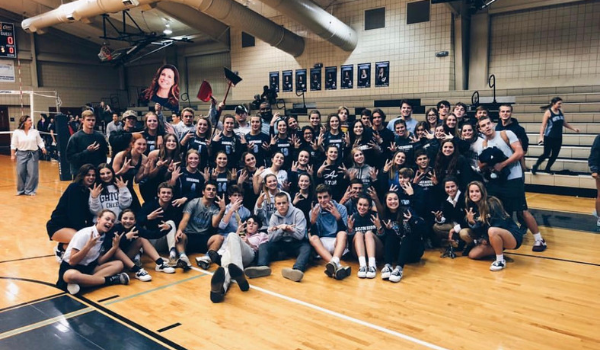 October 23rd was big night for Ascension volleyball. The last home game of the season was also Senior Night, as well as the district championship game against rival Lafayette Christian Academy. Because it was the last home game, all 3 teams gathered for "the last supper," where Coach Dardar had a gumbo and potato salad prepared for the players and coaches. Each junior led a blindfolded senior to dinner, where the theme of the night's game would be revealed. As the blind folds were taken off, we came to learn that the theme was "hunting for a state championship." With the help of the team moms along with additional volunteers, everything in the room, from table clothes to the ribbons, were decorated in camouflage with orange accents. After dinner and the "sappy senior speeches," players made their way to the gym.
Games were held at 4:00, 5:00, and 6:00 for freshman, junior varsity, and varsity respectively. After putting up a good fight, freshman unfortunately lost a hard fought match to their opponent. JV won their first set, 25-14, lost their second, 25-20, and won the tie breaker, 15-10. As these two games wrapped up, fans began to roll in dressed in their formal attire. To get the energy up, they even hung banners saying, "Your mom called and said you left your game at home."
Before varsity was scheduled to play, each senior was presented to the audience by their parents and Coach Jill. The first senior to be presented was setter, AnnLouise Babineaux, followed by Katherine Broussard who has both set and hit right side. Next, Lizzy Hall, a right-side hitter, followed by Alaina Hardy who is an outside hitter. The next seniors to be presented were Elena Harris, right-side hitter, defensive specialist, Hannah Mattke, middle hitter, Ashlee Sandridge, and last, but certainly not least, outside-hitter, Addie Vidrine.
The team started off strong taking the first set with a score of 25-16. As the game continued, the Gators continued to play with "fire in their bellies," as Coach Jill would say. It was quite an upset for LCA to get swept in a short and sweet 3 sets. Senior Addie Vidrine said, "if you know me, you know how happy I am." Tonight the Gators walked away as District Champions on the road to state!