Red Ribbon Week Is Here!!!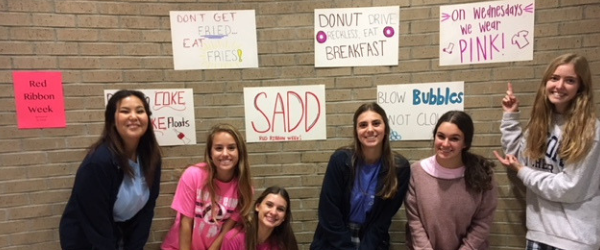 As you might have noticed, the school is decked out in red decorations this week. There is a crazy amount of red ribbon, red bows aligning every library chair, a whole new red outfit on the gator, and tons… and tons of cheesy posters.  If you are observant, you may notice that all of these have a common theme: making good choices.
Student Against Destructive Decisions (S.A.D.D.) is a club at Ascension that warns, discourages, and tries their very best to prevent students from making destructive decisions. It influences positive change in the lives of people who they interact with. These destructive decisions include driving with impairment or distraction, putting any toxications into your body, and peer pressure related choices. S.A.D.D. promotes ways to prevent these decisions that lead to tragic events by advertising these ideas that influence good decisions. Alyse Cormier says, "S.A.D.D. has taught me to be aware of how my decisions can affect others."   Each year, they dedicate a whole week using fun and creative ways to advertise these ideas and get their points across; this week is called Red Ribbon Week.
Red Ribbon Week is a national celebration of commitment to raising awareness of the effects of drugs in America. It was started in 1988 and has grown tremendously since then. Caroline Merryman says, "Red Ribbon week is a fun way to be reminded of the right path to take." At Ascension, we are celebrating it each day using a different theme. Monday's theme was "blow bubbles, not clouds!" (with bubbles available throughout the day). Tuesday's theme was, "DONUT drive reckless, eat breakfast!" (with donuts). The next theme name was, "On Wednesdays, we wear pink…and don't drink!" (You can wear a pink shirt and get pink starbursts). Thursday's is "don't do coke, drink coke floats!" (with coke floats being handed out at break). Finally, Friday's was "don't get fried, eat hot fries!" (with hot fries being served at break).
Even though these puns are over-the-top cheesy, they made this week fun and gave S.A.D.D. a way to raise awareness of the dangers of drugs. Just like everything else, Ascension takes things to the next level, and this year wasn't any different. So if you like donuts over drugs, or just really like wearing pink, this was the week for you!!!