Down, Set, Hut: Kickoff to Football Season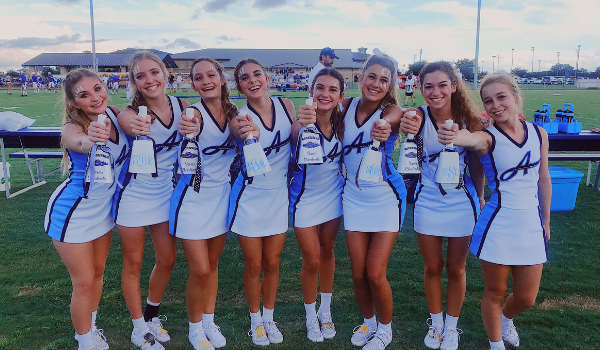 Down, Set, Hut! Those three little words are the calm before the storm. The Ascension Blue Gators kicked off their 2018 football season with a victory over the Erath Bobcats last Friday night. The exciting day began with a very special visit from our very own "hype crew". The "hype crew" is made up of leadership students that greet everyone as they walk into school. It definitely made waking up early for school more enjoyable and fun.
Fast forwarding through the day, the school gathered together in the gym for a pep rally to promote school spirit. The cheerleaders and dance team both had show-stopping performances and were cheered on by the whole school. The seniors were granted the title of Most School Spirited by Mr. Sorrell for being the loudest grade during the spirit competition. The pep rally was concluded with the performance of the fight song. Everyone rushed out of the gym to prepare for the exciting night ahead. 
The football game kicked off at 7:00 in The Swamp. The student section definitely did not hold back at all with their costumes and props. They came dressed in all white for the white out game and even brought baby powder to make things more interesting. The boys were anxious to get on the field and show the fans all the hard work they had put in over the summer. Coach McCullough commented on the team's performance by saying, "I thought we came out and played with a lot of intensity, and we continue to get better every game." You heard it from the man himself! The Blue Gators are on the road to success with the goal of a state championship title ahead of them.
The game was filled with many highs and lows. One low point, in particular, was when our beloved friend Charles Hines took a tumble. While trying to get action shots of the players, Mr. Hines was hit by a tackle that traveled out of bounds, causing him to fall over.  The fans were shocked! Senior Sophie Hebert explained, " I thought he was dead for a second!" Needless to say, Mr. Charles is perfectly fine and will continue to be our favorite photographer.
During the game, the Gators had many incredible touchdowns, interceptions, and tackles. The boys really left it all on the field and played their hearts out. To wrap things up, the Erath Bobcats fell short to our Blue Gators 27-12, and we could not be more excited to start of the season with a victory. Make sure to come support our boys as they continue their 2018 football season!