Downtown's James and the Giant Peach The Musical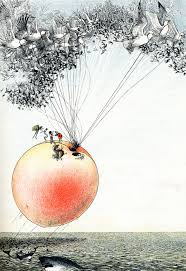 22 years ago, James and the Giant Peach hit the big screen and is still popular today.  When young James spills some magical crocodile tongues, a giant peach larger than his house grows.  He climbs inside and the fantasyland created by Tim Burton unfolds.
Next Thursday and Friday, April 18th and 19th, our 5th grade Blue Gators are bringing this story to life in their musical production of James and the Giant Peach Jr.  "Little Foshee", Quinton, takes to the stage as James.  The show is being directed by Ms. NeeKee McDonald. Word had it Mr. McClymont has done a fantastic job with the sets.   It will be held at the downtown gym at 7pm both nights and tickets can be purchased at www.ascensiongatorshack.org.
Don't miss this blast from our past show!  Get your tickets now and let's go back downtown to support our little blue gators.