Swinging Back into Softball
Softball season is in full swing at Ascension. The Lady Gators are fired up for a brand new season and new beginnings ahead. This season, the team has moved into the 2A division. When asked what you would like people to know about the softball team, junior Hailey Young stated, "It is one of the newest programs and it is still developing, but it is so much fun and inclusive. The team keeps improving both in ability and in relationships." The team started their season with a scrimmage against Dunham on Tuesday afternoon. The girls blew away their competition winning the game 16 to 0.  The girls are all very excited to start the season and be on the field together as a team.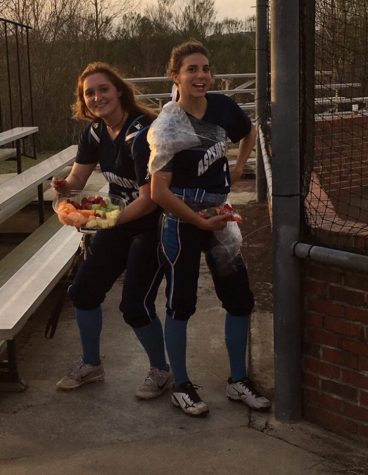 Many people do not know about the home softball games, and the crowd is not always as big as it could be. The girls are very positive and do not let their spirits down. Freshman Jillian Rizzuto said, "It is different because we do not have a ton of support at the games, so we have to support and pump up each other ourselves, making it lively and fun." The Ascension softball team is a close knit family of girls that all care for each other, and just love to have fun! 
With every end of the season, many valuable players graduate and move on from softball. Ascension alumni Brittany Menard completed her last season as a Lady Gator in 2017, and is back helping coach the seventh and eight grade team. Having a former Ascension softball player as a coach is very exciting to the younger girls on the team. 
The team has the most infectious positive attitude on and off the field. The team is very supportive of all their fellow team mates and cheer loud and proud for each other. Everyone is always smiling on the field and are always so joyful.
The Lady Gators next home game is March 1st against Jeanerette! Be sure to make it out and support our girls as they battle for another victory. If you are looking for a fun afternoon filled with smiles and laughter, head to the softball field and I am sure you will not be disappointed!