Signing Day
Neil Armstrong once said, "one small step for man, one giant leap for mankind".  This quote that really sums up the national signing day for a couple of our student-athletes.  From the outside, it's just the decision of one person to go play college sports, but it means so much more than that. ACT scores and college graduation rates obviously represent our school's successes in the classroom, but February 7, 2018 permanently marks our successes and growth in athletics.  Michael Remondet and Alison Burgess represent all of the athletes at Ascension by showing the growth of our programs and making the Blue Gators known all across the great state of Louisiana.
Big Mike, Michael James (southern belle accent), MJ, Dragon Slayer.  Whatever you want to call him, he rocks it.  He has the confidence to walk into a college football program and succeed, but the humble nature to understand what he needs to do to accomplish his goals.  He is a true gentle giant until he straps on his helmet and laces up his cleats to go head to head against anyone on the other team. Michael claimed signing day to be a "dream come true". In short, you don't want to be the other guy.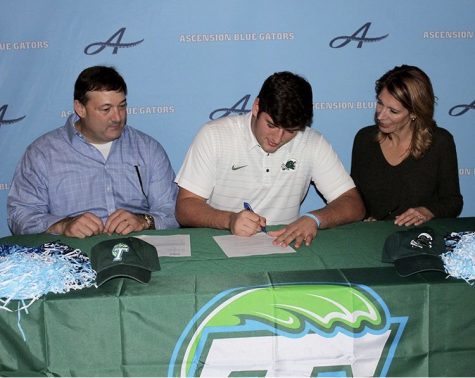 If you are living under a rock and haven't heard, Michael accepted a scholarship to Tulane after this football season, and signed on February 7th.  Some think of this as a simple decision on a college destination, but Michael is the most sought-after football player that has come through Ascension.  He represents our school with pride, and I have no doubt he will continue to do so as he continues his football career.
Alison Burgess. Fierce competitor. Ascension Tennis Legend.  Alison literally maxed out her Ascension athletic career, as she has been a member of the varsity tennis team since 5th grade.  She was a part of 3 out of 4 State Championships.  On top of that, she has won a state doubles tournament with Julia Doucet in 2016, but looks to add another this year with her sister, Ashleigh.  She is consistent, competitive, and a person who deserves utmost respect from anyone and everyone associated with our school.
These two athletes are great representations of our school.  The football team is now a yearly fear in the state and the tennis team could be considered a dynasty.  If you haven't yet, go thank them for what they have done for our athletics, as their accomplishments are special and critical in the solidifying of our athletic programs.