Tales From The Girl's Bathroom: Reputation
The old Caroline can't come to the phone right now. Why? Because she's dead.
So, I'm not sure how you all spent your weekend — maybe recovering from the infamous Ascension Plague, like myself. In addition to downing two bags of cough drops, I spent the weekend repeatedly watching and analyzing Taylor Swift's new "Look What You Made Me Do" music video to find all potential easter eggs and mourn the death of the once loved pop country crossover. As you can see, I have WILD weekend plans. Now, I am by no means a Taylor Swift expert, but myself circa 2013 (@tayswiftie131313 on both Instagram and Twitter) would have said differently. I can honestly say that I would never in a million years have predicted that Taylor would hit her midlife crisis at the age of 26, 5 albums into her career, but similar to beloved Hannah Montana she recently took a wrecking ball to her "reputation".
Taylor cleverly named her new album Reputation. We can say all we want about her, but we cannot deny her smarts and ability to aid us through all of life's pitfalls. Reputation carries a lot of weight, especially in high school. It's so easy to feel trapped and suffocate in the restricting bounds of our "reputation". The pressure to appear like we've got it all together and have mastered this whole life thing is no light load, especially when you spill all your coffee onto your white Ascension shirt that is now against the dress code because of the old logo all before 8 am…
Within the past four years, I feel like I can fit the mold of many different Taylor Swift "eras", some better than others. We all have those days where we feel like zombie Taylor and sometimes we feel like You Belong With Me Taylor (I fit this mold a lot actually, because I dance around my room singing into a hairbrush more than I'd like to admit).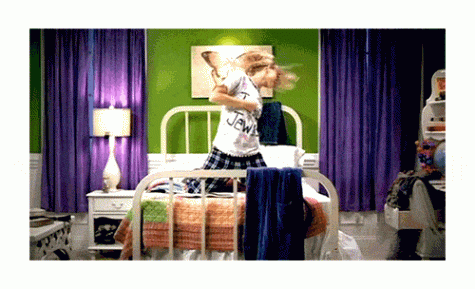 We are constantly evolving and discovering the person we're meant to be. There is enough pressure to figure out who we are, and the last thing we need is a reputation weighing us down, because truly, reputations do not matter. There is nothing so big that we can not overcome it. No matter how hard we try, something is going to tarnish our precious reputation. It is how we act in response to our mistakes that make us the person we are.
As sad as it sounds, people are waiting for you to make mistakes, and truthfully, mistakes are ultimately inevitable at some point in high school (or life in general). This is why it is so important to uplift others, despite what their "reputation" may say about them. We are much more than our mistakes and, therefore, they should not define us. Everyone deserves a chance to make mistakes on the journey to discovering themselves. If we hadn't embraced Miley's inability to be tamed, we would have missed out on the smash hit "We Can't Stop". Therefore, we should support Taylor in her most recent, shocking endeavor. Because as much as I hate to admit it, "Look What You Made Me Do" is really catchy, and as it turns out, an awesome song to have a JV vs Varsity cheer off to… (Just wait until the Homecoming pep rally, folks. It's going to be good.)
Regardless of your opinion of Taylor Swift, we can learn a lot from the different personas she has embodied during her reign as queen of our fragile, broken hearts. This (questionable) album about reputation is a message we all need to hear, even if it is from Taylor Swift attempting to rap. In the words of Taylor Swift, "the haters gonna hate hate hate" so just "shake it off".