New Faces at Ascension
Ascension has 12 new teachers this year! That's a lot of new faces — for them and for us. The Authored Ascension thought we would make it a little easier on the students, here is a list of (and a few facts about) all the new teachers: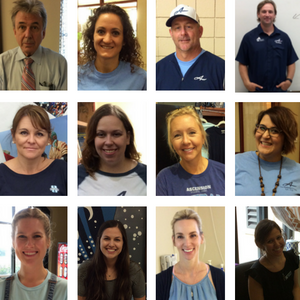 Mr. Anderson- Teaches math and wears really cool ties!
Ms. Delhomme- Teaches AP English and 10th grade English. She enjoys singing and playing the guitar.
Coach Domengeaux- Coaches P.E., football, and baseball.
Coach Hearen- Teaches civics, coaches football, track, and powerlifting. He has 2 children, 3 year old son named Roman, and a 1 year old daughter named Amelia. Him and his wife are high school sweethearts from Lafayette high.
Ms. Landry- Teaches Spanish III, Spanish IV, AP Spanish. She is from Colombia, and moved to the US 19 years ago. She has two children at Ascension, Mateo and Mia. She loves to travel, but her passion is teaching and learning about cultures.
Ms. Neal-Jones- She is the new the guidance counselor for all of SMP and helps Ms. Fournet with college counseling for 8th and 9th grade. Her proudest accomplishment was writing, directing and starring as Simon in Lord of the Flies: The Musical in high school (her friend who created the score is now a professional musician!). And last, the coolest thing that ever happened to her was when her sea kayaking trip was interrupted by a pod of spinner dolphins who frolicked and put on a show of impressive spin jumps mere feet from her boat.
Ms. Ortego- She hopes to help students and teachers to have bright and successful days. She works at the semi-circle desk in the library. She has worked at Ascension for the last 12 years at the preschool. Her absolute favorite place in the world is the beach. She has two children at Ascension, Sidney and Eli.
Ms. Roberts- She teaches English and Creative Writing, and is SO excited to be here! She does not know how to swim; she has taken official lessons and countless people have tried to teach her but, nope. She's been crocheting since she was sixteen, and she is like..REALLY good. She makes really colorful blankets and scarves that her family members fight over every year for Christmas. Her first job was being the video arcade attendant at the bowling alley, and her grandmother worked with her as the desk attendant.
Ms. Robertson- She teaches 8th Grade Visual Art and Art II. She is one of 49 grandchildren. She partially amputated one of her fingers (here's the kicker: she stuck it back on!). She named her dogs after her favorite artists and literary characters.
Ms. Sellers- She teaches Digital Graphic Design and Art II. She lived in Austin, TX for the past two years and adopted a goofy pup; his name is Dr. John Watson. She is missing a knuckle in both of her thumbs. And (most excitingly) she is getting married next month!
Ms. Small-Stutes- She teaches Algebra I and Algebra II. She has a daughter name Zoey who goes to school at Ascension's preschool. She owns her own paint company, Platinum Paint Company. She began painting when she was nineteen and could not pay her rent; her landlord asked her if she knew how to paint, and she began painting for free rent.
Ms. Tuminello- Teaches 9th grade Western Civ, Western Civ Honors, and AP Euro. She owns her own home-baking business– she even bakes cakes and treats for her dogs! Her favorite thing to bake is probably king cake. Her undergraduate thesis in History was published in a scholarly journal. Also this last fact is not directly about her, but Ms. Tuminello claims it as her own: her grandpa is in the LSU football Hall of Fame.