2016 Gator Baseball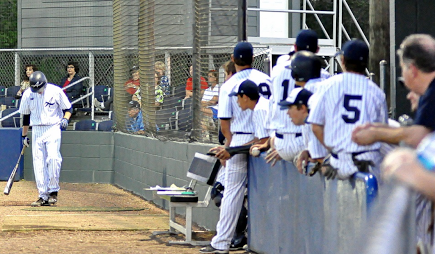 The 2016 baseball season is going to be a very unique one for the boys. There is one senior leader on the team this year–John Hathorn.  John leads the team along with five juniors. He hopes that this leadership can lead them to be district champs.
John described being the only senior as, "Strange. Although I am the only senior, I have not been around the longest. I consider the juniors as much of leaders as I am." Hathorn also said, "I think we can be district camps this year, even though we have one of the toughest districts in the state. It won't be an easy task, but it is definitely doable."
The varsity team looks very promising this year. They have played quite a few scrimmages and they won their first real game versus Iota on Wednesday, February 24th. They have shown that they can be very good defensively, offensively, and on the mound. They are very well rounded.
John says, "The starting lineup is a very young group of boys, but they act and play as if they are older."
Just from watching the boys play in a game, you can tell that they have a unique bond. Spending hours on hours together during the week plays a huge part in that bond. On Saturday, February 20th the boys bonded over a retreat at Three Mile Lake. The boys practice six days a week. Being on the Ascension baseball team takes time and commitment. All of this practice will pay off in the end.
John described a typical day at baseball practice by saying, "We always start off with fly ball communication, then most days we do bunt coverages.  Then, we do individual defense, team defense, then we hit."
This could be the key to becoming district champs. The boys' favorite part of the season is district play. This is when the season is toughest and this is when they can pursue their goal of district champions. District play begins March 21st versus Hanson Memorial. Checkout the baseball schedule attached below and come watch these hardworking boys pursue their goal. GEAUX GATORS!
 2016 Varsity Baseball Schedule
February 3: HOME scrimmage.. 3:00
February 12-13: Scrimmage @ Sacred Heart VP
February 20: Jamboree @ Eunice
February 23: HOME vs Iota.. 4:00
February 27: Tournament @ Cecilia
March 3: @ Catholic High.. 3:30
March 5-6: Tournament @ Barbe
March 8: HOME vs Acadiana.. 6:00
March 10-12: Tournament @ Eunice
March 17-20: AES Invitational
**March 21: HOME vs Hanson.. 4:00
 **March 23: @ Hanson.. 6:00
**March 29: @ Gueydan.. 4:00
**March 31: HOME vs Gueydan.. 5:30
**April 30: HOME vs Vermillion Catholic.. 2:00
**April 5: @Vermiliion Catholic.. 4:00
**April 7: @Centerville.. 4:00
**April 8: @ESA.. 4:00
**April 9: HOME vs Centerville.. 2:00
**April 12: HOME vs Highland.. 6:00
**April 14: @ Highland.. 6:00
**April 16: HOME vs LCA.. 11:00
**April 19: @ Fabacher Field vs LCA.. 6:00
**April 21: @Central Catholic.. 4:00
**April 23: HOME vs Central Catholic.. 11:00
April 29: PLAYOFFS
**Indicate district games**