Teacher Feature: Mr. Lyles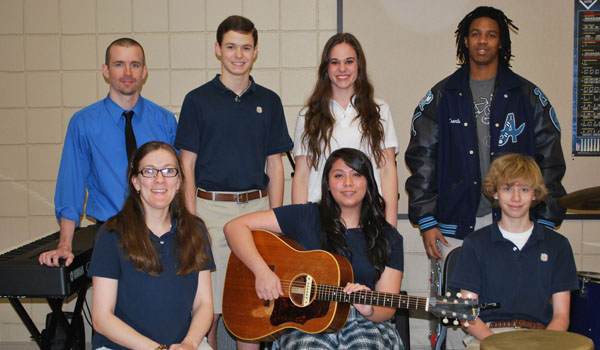 This year at AES we have several new teachers. One is Mr. Tom Lyles, head of the upper school music department at Ascension.
"I have really enjoyed my first year at AES. I really love the faculty and the administration," said Mr. Lyles.  "I can't wait to see the school grow. It's made me realize how much of a punk I was in high school. Teaching here has also made me realize how hard my high school teachers worked for me. When I was in high school, I was totally clueless as to all that my teachers did for the students."
Mr. Lyles said that he first began his musical interests as a senior in high school.
"I was taking an Aerospace Science class in school, and a senior classmate said he was selling his bass, so as an excuse to talk to him, I offered to buy it," said Mr. Lyles.  "I didn't end up buying that bass, but it got me to start thinking about music."
Mr. Lyles first heard about Ascension through a friend of his who was talking to Coach Dardar and recommended it to him.
After his day ends at AES, Mr. Lyles goes to Acadiana School of the Arts where he teaches private lessons on guitar, bass, and piano. He also leads the music at St. Mary Catholic Church in Lafayette, East Bayou Baptist Church, and Crossroads churches.
"I also play jazz, blues, rock, classical, Louisiana music, and various other kinds of gigs around town," said Mr. Lyles.  "I used to gig a lot more, but my schedule doesn't permit it nowadays."
When asked about his favorite musical genre, he answered, "J. S Bach, Edward Elgar, Aaron Copland, Matt Maher, Patty Griffin, Johnny Cash, lots of jazz, Gregorian Chant, old Lenny Kravitz, old Dixie Chicks, old Outkast, James Brown, Bob Dylan, Stevie Ray Vaughan, Coldplay, Foo Fighters, The Beatles, Jackson 5, Nirvana, Red Hot Chili Peppers, Radiohead, Stevie Wonder, and anything else that's good," said Mr. Lyles.  "As far as favorite musical genre, it's probably jazz or certain classical music."
Mr. Lyles said that as a musician, he is inspired by many different sources.
"I don't really have a musical idol," said Mr. Lyles. "Imitation can be very good, and there are lots of folks that I have admired enough to imitate. As far as inspiration, you can get that anywhere and everywhere, as long as you are listening."
Mr. Lyles said that he enjoys playing a number of different instruments, but upright bass is his favorite because it is the most challenging instrument for him.
"I also enjoy the role the bass player usually plays in the band," said Mr. Lyles.
When asked about taking his musical talents to the next level he said, "For the past ten years I been working solely as a professional musician, gigging, touring, recording and doing all that stuff. I'm glad that I got a chance to do that stuff, but I know now that I really don't want to be a touring musician or a studio session player. I like going to sleep in my own bed, rather than going from airport to airport and hotel to hotel. I like the idea of being a part of a community, like a church community or school community, somewhere I can be for a long time and really build something that is excellent."
Mr. Lyles enjoys music, of course, but his favorite part is getting to know people through music.
"When you share an inspirational musical experiences with people, you share something really intimate," said Mr. Lyles. "You are able to establish relationships through music in a very special way. Sometimes I will do a gig and play with other musicians that I have never met, but through playing music, I get to know a lot about them, even without using words. How you play reveals a lot about yourself. Therefore, through playing and practicing music you can really come to know yourself and others in new ways."
"Ultimately, the pursuit of excellence in music can draw one closer to God," said Mr. Lyles.
Leave a Comment