Teacher Feature: Mrs. Ladmirault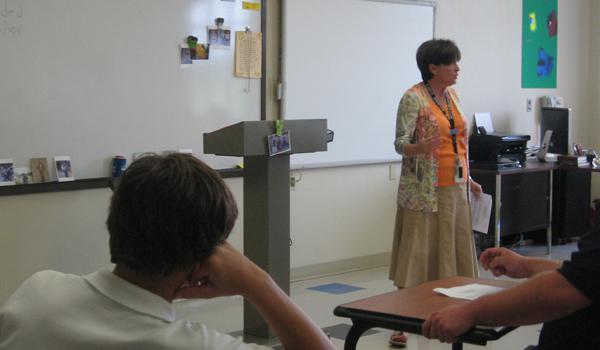 As the 2010 school year gets started, it is easy to see that there are many new teachers around the school. For this edition of "Teacher Feature" Mrs. Karen Ladmirault (Mrs. Lad) was happy to share a bit about herself.
Mrs. Lad was born and raised in a city by the name of New Iberia. She lived there for almost 50 years, but she recently decided to move to the conveniently located Sugar Mill Pond.
Mrs. Lad said that she has been happily married for 33 years to Wardell Matthew Ladmirault and has two kids, Ian and Caitlin. Ian serves in the United States Marine Corps. , while Caitlin has just graduated with business degree and is soon to begin work as a manager at Village Market.
In her free time she enjoys walking, biking, and even kayaking in her lovely neighborhood of Sugar Mill Pond. Although she is a teacher, Mrs. Ladmirault does still enjoy normal things.
"Like any female, I love to shop and travel," said Mrs. Ladmirault. "Nothing is better than reading a good book while lounging in the courtyard."
Mrs. Ladmirault comes to Ascension with a great deal of experience from her previous school's, which include Catholic High School of New Iberia, Jeanerette High School, and the University of Louisiana at Lafayette. Mrs. Ladmirault has taught at every level, including both gifted students and regular students.
Mrs. Ladmirault's most recent school before AES was Jeanerette High School.
"My formal students were often in survival mode and worried about if they had a safe place to sleep and if they had food to eat," said Mrs. Ladmirault. "Therefore, composition, grammar, and literature were not as important to them as they should be."
Mrs. Ladmirault says that AES is a change from her most recent teaching experiences, but it is a change that she enjoys.
"Here the students are more focused and well mannered," said Mrs. Ladmirault. "I believe the students here are fun and a bit quirky."
Mrs. Ladmirault is definitely a fine addition to the AES staff. She teaches English III Honors and regular, English II Honors and regular, and she is also teaching one lucky group of freshmen in English I.
Leave a Comment