Homecoming: Trick or Treat?
Like so many other things, this year brings about even more change, this time in the form of a homecoming dinner, not a dance. The dinner has been a much-debated topic, and opinions about this change have been varied and inconsistent. Some people were incredibly excited to go dress shopping and prepare, while others disregarded the event entirely. Over the past few days, I have asked several students about their opinions on the homecoming dinner, and why they are or are not attending. 
Lots of students are very enthusiastic about the dinner. Senior Ela Acevedo expressed her opinion by saying, "I'm going to the dinner because it could be a new tradition to add to our list, and the school has worked so hard to put it together for us!". Another student, sophomore E.J. Abshire said, "It's a good idea and a change of pace", and this is another appeal that the dinner has to offer. This new experience could be a much-needed change from what we are accustomed to and might be even better than expected. More students who support the dinner, including sophomore Luke Guidry, said, "I think it's a good idea because high school is not going to last forever, and we need to enjoy our time with our friends." Another student who expressed a similar opinion was sophomore Madeleine Sorrell, who said, "I'm really happy that we're able to have some sort of homecoming function this year, and it's really cool that the school offered a safer alternative. I'm really excited to be able to dress up and hang out with my friends, even if it isn't a dance." Lots of students are attending because, even though it is not a dance, it is an opportunity to have a great time with their friends outside of class. 
Though many students are in support of the dinner, there are some who have no interest in attending and think that the idea of having a homecoming dinner is unappealing. One student who has chosen not to attend, junior Savannah Simon, said, "I'm not going because it was set on Halloween, and the pod situation is not ideal. I don't like that you can't sit with people from other classes or grades, and though I understand the reason, I don't like that students from other schools cannot attend." The issue of having to sit in pods is a big reason I have heard people not wanting to go, and though it is for our safety, many people are disappointed by the requirement. Two other students, sophomores Michael Leblanc and Jackson Lynd said, "I'm not going because I don't think it's going to be the same as if it were a real dance" and "I don't think it will be as fun as last year, and I don't think I'll be missing out on much" respectively. Many people feel that the dinner is a cheap substitute for the homecoming dance, and feel that it is a waste of their time. One final student, sophomore Nyah Mitchell, said, "I think this dinner is unnecessary, and it would be so much better to spend Halloween with my family trick-or-treating than spending a few hours eating dinner with the same people I see every day."
The homecoming dinner has sparked much debate, and each opinion has its merits. Those who are attending the dinner feel that it is an opportunity to make new memories and enjoy this time with their friends. They are also incredibly happy that we were able to have some type of homecoming event this year due to all of the restrictions and guidelines. The students who have decided to not attend the dinner feel that it will not be as enjoyable as the dances every year and that having to sit in pods instead of hanging out with friends from other classes or grades will make the night less exciting and fun. Some also hate that the dinner would make them miss out on Halloween, which hasn't been on a weekend in several years. Overall, the homecoming dinner has been a never-ending discussion, but everyone seems to be content with their plans for that night, whether that be attending the dinner or enjoying Halloween elsewhere. 
View Comments (1)
About the Contributor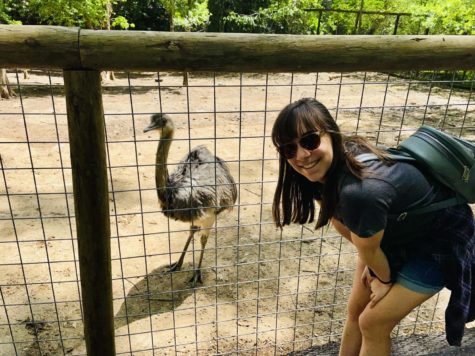 Ella Dupuie, Editor-in-Chief
Hey guys! My name is Ella Dupuie, and I'm a senior this year. I've been at Ascension since 5th grade, and have loved every minute of it. This is my third year writing for the Authored Ascension, and I am the editor-in-chief of the Authored Ascension and the yearbook! I am on the Ascension swim team, and in my free time I love to read and binge TV shows on Netflix.