It's A Can-Do!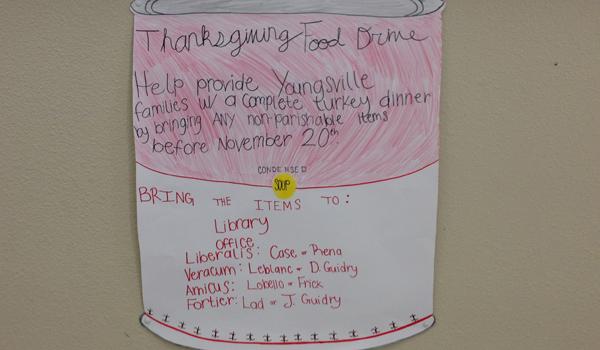 When thinking of Thanksgiving, what comes to mind are the fall leaves, family, and food. Lots and lots of food.
A great Thanksgiving dinner can include a turkey (a turducken if your'e feeling adventurous), a ham, mashed potatoes, corn, greens, salad, bread rolls, corn bread, sweet potato casserole, green bean casserole, cranberry sauce, stuffing, rice dressing, baked mac & cheese. Of course, it would not be Thanksgiving without a medley of desserts, such as pumpkin pie, pecan pie, apple pie (a lot of pies), bread pudding, anything with chocolate, and maybe even some fruit to cleanse you pallet for round two.
Hungry yet? I'm sure you can't wait for that feast on the 28th, and you'll eat until you have to change into something with elastic in it. But the sad truth is that a large percentage of people will go to bed hungry that night.
According to Bread for the World,"14.5 percent of U.S. households—nearly 49 million Americans, including 15.9 million children—struggle to put food on the table".
Here at Ascension, we are given the opportunity to help the families in Youngsville and provide them with their own Thanksgiving dinner. How can we do this, you say? Well, it's quite simple: bring in your cans!
You can bring any non-perishable food items through November 20. They really are not hard to find. Go into your pantries, search around, and I guarantee you that you will find plenty of cans that your family and you can live without. Canned vegetables, fruits, soups, sauces, broths, etc. These are all classified under non-perishable foods, and if there aren't any in your pantry, then there's always Sam's Club.
I don't know what everyone is waiting for. We're already almost on our Thanksgiving break, and what we have to show for the food drive is pitiful. Write a reminder on your hand. Send yourself a text or email. Make a note on your iPad. I'm not above spamming all of you with email reminders. If your waiting for an incentive, such as bonus points, then you're going to be disappointed. We should all be able to do something for someone else out of the sheer want to help and not expect a reward in return. To actually make a difference in someone's life and give them and their children a real Thanksgiving should be enough of a reward.
You may go around the dinner table and say what you feel thankful for that year, but I don't know if any of us can understand just how lucky we are. We think we know what hunger is, but have any of us experienced that gnawing pain in your stomach that won't fade and there isn't anything you can do about it? We can stop that hunger so easily, but it will take a school wide effort. If everyone one were to bring at least five non-perishable foods, we could make a great impact.
Leave a Comment