AES Feels Like Home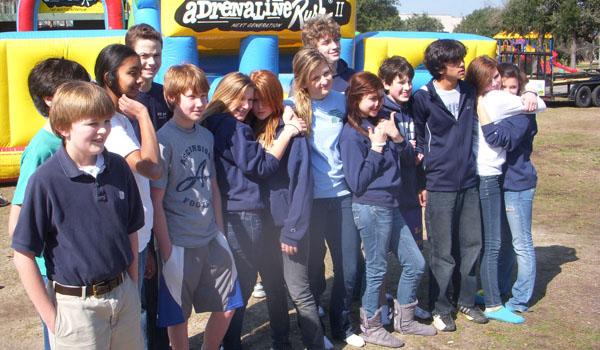 A few days ago, on Tuesday, the eighth grade class took a  trip to Girard Park for a day of fun. Many kids walked around, swung on the swings, and of course, had fun. Later on, a fun jump was set up and, with the help of Mr. Kennedy, a few students had a little friendly competition.
After about an hour, everyone had lunch that was grilled and prepared by the one and only Coach Dardar. By now, a handful of seniors including Kevin Boland, Rachelle Mosing, Tessa Mattke, Theo Bean, Erin Strenge, Lauren Graham, Alex Smith, Luis Alvarez, Brittni Clements, William Barry, and Junior Alex Voorhies had arrived to give a little advice. One by one, all of the seniors expressed their love for Ascension and their experiences with other schools.
Alex Voorhies, the last one to speak, mentioned something that most people had not thought about when choosing their high school–whether or not they would feel comfortable there.
"Leaving Ascension is like starting a new home… at Ascension it's just homey," said Alex. "I've been here one year, and I love it. It feels like home."
I'm sure that when he mentioned this, he had not intended it to mean for students to come to school and kick back with their shoes off. Alex meant that Ascension is a school where you are welcomed every day.
Here, you are able to ask questions without fear. You are able to have a relationship with your teacher as a friend, as well as a respectful adult. Most people just look at the size of the school and the amount of sports available, not how it will feel to be there. That is something I think all seniors accomplished in getting across to us in their speeches. It is also something that I know many students are starting to think about more.
The speeches ended on a high note, as well as a sad departing of the seniors … and Alex. The sadness didn't last long though because afterward, most of headed to the fun jump or back to what they were doing prior to lunch. All in all, whoever was there will tell you that it was a wonderful time and a beautiful day that was chosen, despite it being the third rescheduling of the trip. The only bad thing that was or could be mentioned is that everyone had school the very next day.
Leave a Comment