Ascension Gator Jazz team
Gator Jazz started the season this year at the beginning of August, even though the team had different rules around the studio. We managed to work around the circumstances going on and were able to practice dances for football season. Many of the dancers are eager for the new season and are thrilled to be able to dance again after a long break.
Throughout quarantine the team would work out every day and additionally take dance classes over Zoom. This helped the team stay healthy and in shape, plus kept our stamina up. Due to corona, we have many restrictions around the studio, from staying apart as much as possible, and providing a safe place for the dancers. 
Amelia Morgan, Captain of Ascension's Gator jazz team, commented "I am so excited to be back with everyone practicing for football!" All of the girls have such great attitudes and cannot wait to start the season again. We all work so hard, and it's going to be so exciting to see how well everything goes at pep rallies, games, and nationals!!." Freshman team member Leah Franques also commented "Gator Jazz is one of those things that brings people together and unites us as one. When you are in that uniform you're not a team, you're a family." We are very thrilled to be able to dance at football games again and to be able to compete next spring at DTU.
Leave a Comment
About the Contributor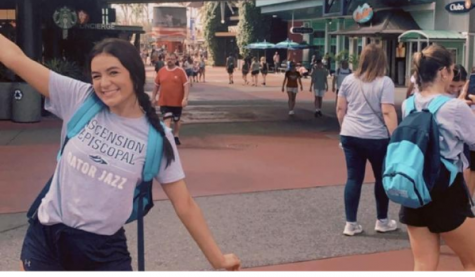 Grace Morgan, Staff Writer
My name is Grace Morgan, I am a senior at Ascension Episcopal School. I have been on the Ascension's competition Gator Jazz team since 8th grade year. I am really excited to make fun memories with my class one more year.