Sweetest 16
In just a couple of weekends, all the Sophomore girls will all gather together at the Le Pavillon center to celebrate their 16th birthday. It is a yearly tradition that all sophomore girls participate in to honor them turning older and just a fun celebration of life! The event will be held in honor of the class of 2022. The venue is always decorated beautifully by the amazing parents and filled with lots of extravagant sweets and beautiful decorations!
While some of the sophomores have a mixture of emotions concerning this event, Sophomore Elise Cope could not be more excited about this amazing night. "I'm so excited for sweet 16 because I think it is going to be such a great bonding experience for the girls in my grade, and it is super special to walk down the aisle with our dads too!!" Every girl will be walked down the aisle by their dad as a bunch of facts are presented about them. It is a very beautiful and loving bonding moment between the daughter and the father. 
Shortly after the event, the girls will partake in a dance party with the rest of the high school campus and other family members, who will all be invited to celebrate this event. After the dance, the girls will partake in a fun slumber party decorated with cookies and tables that are specifically for each girl in the grade! Fellow Sophomore Ava Lejeune says "I am so excited for Sweet 16 because of how close all the girls in my grade are getting! We have really bonded over our dresses and just how great of an experience this will be!" Overall, the girls definitely are looking forward to this spectacular event that they are very thankful that Ascension does this for them and honors them for turning 16 and they all hope that you can make it!
About the Writer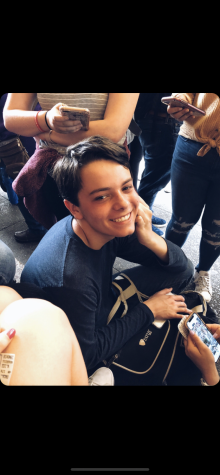 David Chadwick,
Hi! I'm David Chadwick and I'm from Alexandria, Louisiana. I have been going to Ascension since 7th grade and have loved every second of it because of how much I have grown and developed since starting here. I try to get as involved in school related activities as I can. I am an active member in CYT and other theatre related things. I also do Younglife and will be going to Capernaum this summer.  I hope to represent my school through these various and very random selection of articles I will publish throughout my junior year. This school has such a fun and free environment where every student is truly able to be themselves and achieve anything they put their mind to. I can't wait to share my experience at this  school for the rest of high school and all the fun memories that lie ahead for me and all the rest of my peers!