What is "Wellness Week"?
From January 13th to the 17th, each Ascension campus participated in what is called a "Wellness Week." So, what's that all about? To answer that question, I interviewed the coordinator of the event and our school counselor, Ms. Neal-Jones. Along with information about Wellness Week, she gave some very interesting insights as to why we take part in this event.
Why do we have a "Wellness Week"?
Ms. Neal-Jones said that she began organizing Wellness Week for Ascension because "we recognize that that nurturing the mind, body, and spirit of our students is essential to their education and development as individuals." She also mentioned that when all three campuses participate in these activities, the benefits of Wellness Week are more widespread and everyone is able to come together to work towards a common purpose. She also talked about a goal that she is attempting to reach with the students. This goal is to "introduce our community to concepts of self care and personal wellness that will hopefully become life-long habits." So, what she's saying is that this event could open up new doors for us in the future that'll help us live happier, healthier lives! Thanks for looking out for us, Ms. Neal-Jones!
What does each day entail?
Every day of the week, there was a different event that promotes wellness and/or self care in some way or another. On Monday, there was a live cooking demonstration in the gym by Ms. Daphne Olivier. She did a nutritional presentation during Wellness Week 2017 and she returned this year, so everyone got a show! It was set up like a television cooking show, but the demonstration was live and on the big screen in the gym. On Tuesday, Ms. Neal-Jones did a special presentation during Community Time called "The Mindset Challenge". She said that this presentation would "challenge students to program their brains away from shame, guilt, and self-blame towards constructive, positive problem-solving". That sounds helpful! Wednesday, Emma Guidry gave a chapel talk relating to wellness and spirituality. Thursday, Mrs. Delcambre presented on the science of gratitude. Afterwards, students got a chance to try gratitude journaling! On Friday, there was a Tech Free Day. A day that many students dread and others love, Tech Free Day is on a straight seven schedule, and during AAA and PE classes, students participated in a sort of "Communication Bootcamp". The bootcamp involved fun problem-solving games that enhance communication skills.
Why is Wellness Week important?
The last question I asked Ms. Neal-Jones was why she thought Wellness Week is important. She told me that "at Ascension, we recognize that part of our role as educators is not just to educate students, but to support their personal growth and life-long success. This week is a chance to focus on the emotional, spiritual, and health needs that are easy to neglect in the business of our day-to-day lives." I agree with what she said because what many teachers don't realize is that many students have packed schedules and never have time to take care of themselves as well as they should. By coordinating this event, Ms. Neal-Jones has given students a chance to catch up on self care and really focus on wellness instead of worrying about the stress that comes from school and their home lives.
Leave a Comment
About the Contributor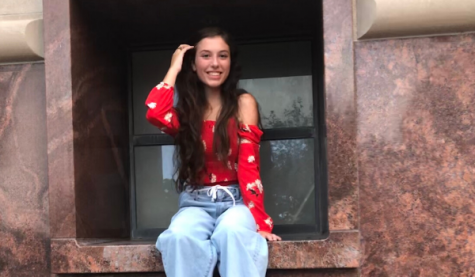 Callie Ste. Marie, Staff Writer
Hi! My name is Callie Ste. Marie, and I am a junior at Ascension! This is my first year in journalism, and I'm really excited to be a part of the team! I'm really into fine arts; I love theatre and choir. I participate in the musicals at school and in an organization called CYT, and I'm also on the improv team for CYT!