What's Up, Bro?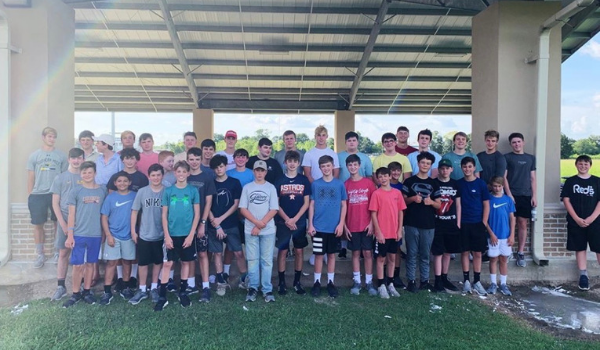 This was the first year in nine years that Ascension held a Big Bro Lil Bro event. This event is modeled similarly to that of Big Sis Lil Sis. This is a fun event for the eighth grade and senior boys where they hang out, have a barbeque, and play games. This event helps the eighth graders feel more comfortable and welcomed on their first day at the Sugar Mill Pond campus. 
It had been many years since the last Big Bro Lil Bro, so when Will Frentz suggested that they do it again this year, some of the guys were very hesitant in doing so. They thought the whole event could end up being girly, but in the end, many of them went through with it for the sake of the 8th graders. Senior Andrew Stolzethaler told me that he had fun hanging out and playing in the hamster balls. At the "brobeque" they had human hamster balls that they would run into each other and see who would be the last one standing. They also had balloons that they put shaving cream on and shaved the balloon to teach the younger boys how to shave. He told me "it was a good experience for both of the grades, and it was a great way to bond with the younger kids".  
The Big Bro Lil Bro event is similar to the Big Sis Lil Sis. Senior Isabelle Beaullieu said, "I think it is cool how the eighth-grade boys get to build a relationship with the senior boys."  I can tell that the eighth graders are way more comfortable being at the school and walking through the halls with the older students. This event is great for the eighth graders to get involved in school activities.