The Ultimate Struggle: Homecoming Dress Shopping
Many girls struggle around this time of year because of the stressful homecoming dress shopping. The problem with homecoming dress shopping is that there is so many choices! There are tight, loose, short, long, colorful, strappy, simple, and extravagant types of dresses all over the internet and in local stores!
Some online stores perfect for homecoming dresses are Modcloth, Nasty Gal, Asos, Tobi, Lulus, Lipsy,  and French Novelty. Also there are more unique dresses at places like Urban Outfitters, Free People, etc. Then there are the more expensive stores such as, Neimann Marcus, Shopbop, Saks Fifth Avenue, French Connection, Nordstrom, BCBG, Bloomingdales, and more!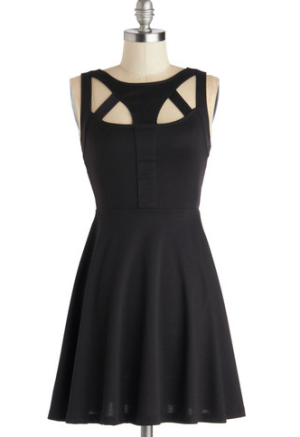 This first option is a beautiful, simple, black dress. The "Uniquely Yours" dress from Modcloth.com is 70% Polyester, 25% Rayon, and 5% Spandex. The fabric makes it a comfortable and flexible fit! Also, it is an affordable price of $47.99.

This second option is the more expensive and extravagant choice. This dress is the "Love Sam Beaded Mini Dress" from Shopbop.com. The dress has a beaded chevron design throughout the whole dress, it has adjustable straps, and has a beautiful scoop neckline and back. The fabric is 100% cotton and is imported from India (which is super cool!) which gives the dress some cultural influence.
Sophomore Mary Catherine Franques has bought her past homecoming dresses online. She enjoys shopping online because, "There is a wide variety and I don't have to leave my house."
She says her fashion inspiration is Veronica and Juliet (how sweet!). Mary Catherine says her style is very girly. She also likes both short and long dresses depending on the occasion. Mary Catherine has already ordered a few dresses online, and she's going to pick one out of her selection!
Junior Lauren Quibideaux also enjoys shopping online, particularly from Nordstrom because it has cute clothes. Her favorite local stores are in River Ranch. She says that her fashion sense is very chic and simple.
Senior Brittney Tomlin gets her homecoming dresses online because she is very picky. Her fashion inspiration is Blake Lively, especially when she plays Serena Van Der Woodsen on the hit show Gossip Girl. Her favorite local store is Vertigo, and her favorite online store is Lulu's. She thinks her fashion sense is very simple, and she prefers short dresses. She describes her homecoming dress as a black, strapless, short dress that she plans on wearing with a teal necklace.
Leave a Comment