Sew Chic: Spring Fashion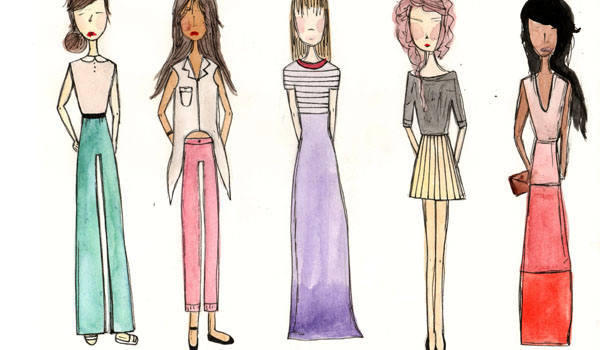 Spring time is my favorite time of the year for two reasons.  First, the weather is perfect in southern Louisiana because it is recovering from being cold, and warmth is starting to enter back into our lives.  Secondly, the style opportunities in the spring time are endless.
Springtime gives us a little glimpse of summer.  Spring Break trips, adventurous days, festivals, and road trips usually consume my time in this season.  Because of the cool breeze and sunshine that beats down in the spring, the wardrobe choices are a mix of the dwindling fall and the approaching summer.  Accessorizing with light flowy sweaters, hats, and scarves makes me so happy.
As with each new year the trends change quite often.  The four trends that stand out most to me this season are florals, bright colors, pastels, and lace details.
The floral trend has really made itself known this year.  The fun, vibrant pattern is being printed on dresses, shorts, skirts, scarves, shoes, hats, accessories, basically anything!  If not done correctly, the trend takes on a "prairie" feel.  The best way to not overdue this style is to pair your floral piece with something edgy or a bold solid color to balance out the "girlyness".
Another trend is wearing neon bright colors.  Visually, spring is bright and colorful, so this trend obviously stems from that. The colors ooze sunshine, summer, and fun. The bright lime color gives a fresh, new feeling.  The colors hot pink and tangerine are reminiscent of a sunset.  And of course, the mint/turquoise color immediately gives you thoughts and feelings of the ocean and the beach in the spring.
Pastels are also in this season.  When I think pastels, I immediately think of Easter.  You should not mix all these colors into one outfit because you do not want to actually look like an Easter egg.  Like the neon and floral trends you also want to pair pastel items with  something edgy or a basic color like black, white, or grey.
White or cream lace details are also showing up more frequently as well.  This delicate little touch is seen on accessories, clothing, and even shoes.  Personally my favorite lace look is a delicate scarf.  A lace scarf in a basic color is essential to completing your spring wardrobe.  You can throw it on with anything either to dress an outfit up or to dress it down.  Lace on clothing can easily go wrong though.  The way to avoid this is to either make sure your lace dress or shirt has an extra layer under it, or remember to wear something underneath it so you are not fully exposed.
As you can see there are many new trends this year but of course, these are not the only ones.  Like I said before, the options are endless, and it is completely up to YOU how you style and wear these items!
Leave a Comment