Sew Chic: Rising Star Ryan Elizabeth Gambel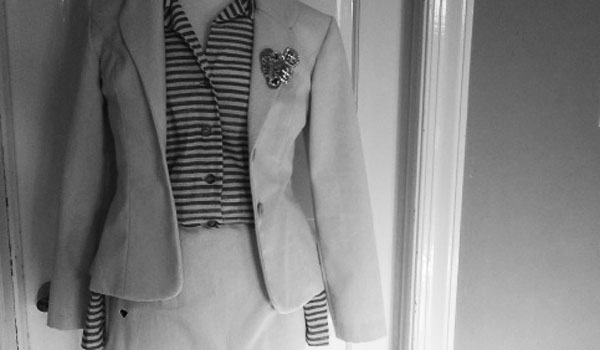 Around campus, I am sure that everyone is aware of our very own Ascension "fashionistas".  Ryan Elizabeth Gambel is most definitely one of those students.
When asked to describe her personal style, Ryan responded, "I definitely feel I have more of a classic, preppy style, but I like to throw in a couple of edgy pieces".
This summer Ryan attended Savannah College of Art & Design in Savannah, Georgia for their Rising Star five-week program.
"The program was very hard, but a lot of fun.  I had quite a few all-nighters finishing homework", said Ryan.
Ryan described a typical day at SCAD.
"I would wake up at six in the morning and try to make breakfast.  Then I would go catch the bus that took me to my drawing class. After, I would eat lunch and head off to fashion.  I would not get home from class until 10:30 (usually missing dinner)!  Then I would do homework until one-ish".
During the week, the work was very intense, but on the weekends, students were able to hang out around Savannah.  Ryan's favorite memories from the camp are the day she completed her suit and her very funny fashion teacher.  This teacher was not the only teacher that Ryan enjoyed.
"All of the teachers were so amazing," said Ryan. "SCAD really tries to get to know every student."
Ryan said she feels as if the camp prepared her for college next year.
"It was very hard, so people that go to a SCAD summer program will definitely find out if fashion is right for them".
Ryan shared a piece of advice for others considering a career in fashion.
"I learned everything about sewing, but I also learned that in the fashion business you cannot get emotional," said Ryan. "It is going to be hard, and you just have to work through it."
After the stressful yet exciting summer at SCAD, Ryan realized that fashion is the career for her.  She is considering SCAD for college next year, but she is keeping her options open.
After college, Ryan plans to live in New York City and study abroad in Paris.  Her ultimate dream job would be working for J.Crew or Karl Lagerfield.
As you can see, Ryan definitely qualifies as a rising star!  Ryan very well could be the next Vera Wang or Diane von Furstenberg.
Leave a Comment