Volleyball Legends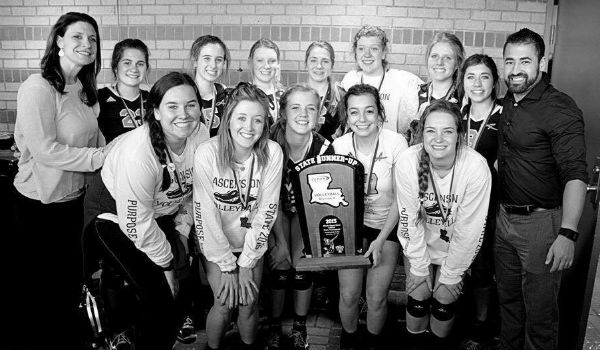 The Lady Gator Volleyball team made quite the run in the 2015 LHSAA State Championships. They started off with a bi week because of their high seeding, and then defeated Central Catholic of Morgan City in three straight games. The win against Central Catholic secured a spot for the Blue Gators in the quarterfinals which were held in New Orleans at the Ponchartrain Center. The Lady Gators beat First Baptist Christian Eagles in three straight games to advance to the semi-finals where they would play the six time reigning state champion Metairie Park Country Day. Senior, Mary Catherine Franques, said "I was excited that we got another chance to play them and we all wanted to beat them really bad!" The Lady Gators played a phenomenal game against the Cajuns and beat them three sets to two sets with three out of the five games exceeding 25 points. The stats were insane from this game!
Katherine Broussard 3 kills, 39 assists, 12 digs
Mary Catherine Franques 5 assists, 1 ace, 72 digs
Addie Vidrine 49 kills, 2 assists, 3 aces, 22 digs
Jenna Partimbene 3 digs
Maddie Mosing 2 kills, 1 dig
Ashlee Sandridge 7 kills, 1 assist, 4 digs
Carolina Cordova 29 assists, 1 ace, 8 digs
Alaina Hardy 19 kills, 1 ace, 28 digs
Gabrielle Tremblay 3 kills, 1 dig, 2 blocks
The win against Country Day then meant the girls would be playing Louise McGehee for the state championship title the next day. Although the game did not go as every Gator fan hoped, everyone can agree these girls left a lasting impression on the state and will forever be remembered. They defeated a six time state championship team and were humble and respectful while doing so. Congratulations to our state runner-up volleyball team on a great season! Geaux Gators!