Greatest Show of the Summer: Cheer Camp 2019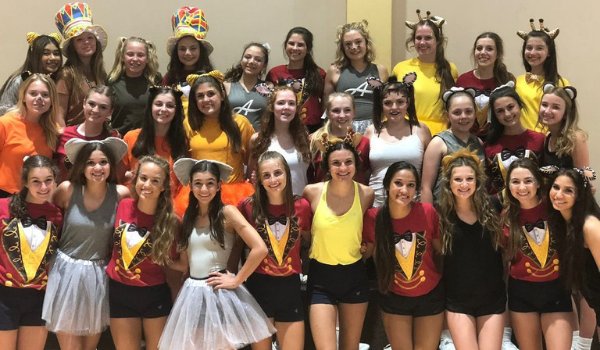 This summer, the Varsity and JV cheer squads went to UCA Camp at ULM. A day at camp consists of cheering, dancing, games, stunting, and team bonding activities. This year's theme was "The Greatest Show of the Summer" which meant that all cheerleaders were to bring their best circus wear. All of the seniors decided that they would dress up as the ring leaders and their "little sisters" would dress up as circus animals. That night, Ascension's Varsity and JV were made up of lions, tigers, zebras, and more! The pep rally consisted of games and competitions against the other squads who attended. One of the best memories the cheerleaders share from camp was getting to dress up their coaches as clowns and watching Coach Andrea in a dance off. 
One of the things dreaded most about cheer camp is the dorms. This year we stayed at the ULM dorms and Ascension was not a fan. Senior Piper Blancher said, "The thing I hated the most about cheer camp were the disgusting dorms, but it was an overall great experience to grow my existing friendships and get to know incoming girls." This year's cheer camp was the best one yet, and if you ask anyone who attended, I promise you they will say the same. Those nasty dorms couldn't rain on our parade! 
When the cheerleaders woke up the next morning, it was time for final evaluations. All squads have to compete in the Rally Routine and Overall Game Day. The dances and cheers they use in competition are taught throughout the 3 day camp. This year, Varsity placed 1st in Sideline Chant, 1st in Cheer, 1st in Overall Game Day, and 2nd in Rally Routine. JV brought home the Most Improved award, which is such an accomplishment considering how many squads attended camp. 
This year, cheer camp got our 2019-2020 cheer season started. After our great accomplishments at camp, we couldn't help but get excited for this year's LHSAA cheer competition. We will be working extra hard to represent Blue Gator Nation. The road the state starts now, and we hope you can all join along on November 30th in New Orleans.