Senior Spotlight: Olivia Matherne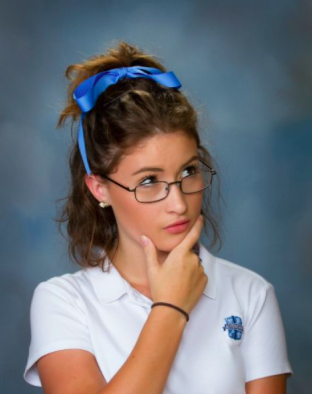 Name: Olivia Matherne
First year at Ascension: Pre-K 3
Favorite teacher(s) at Ascension: Olivia's favorite teachers are Mrs. Bourque and Mr. Kennedy because "they're woke".
Olivia's future plans: She will be attending Samford University in the fall of 2018, where she will be majoring in journalism with minors in economics and political science. Olivia's ideal profession includes writing and editing for a major news publication with the possibility of working in politics. If that doesn't work out, she plans on becoming either a cheese taster or a dessert critic.
Some fun facts about Olivia:
Her role model(s): Michelle Obama and Olivia Pope from ABC's Scandal because "they're beautiful and influential and bad*ss".
Quote to live by: "It is better to be late than ugly." – Unknown
Her favorite album: Everything on Vance Joy's new album because it is "SO GOOD".  (I also recommend this album 10/10).
Her life hero: Missy Bourdier
Favorite Ascension memory: Cheering with my best friends (and making up dance moves) from Clark Field, to the first game in our stadium, to the Superdome.