Blessing of the Pets 2019
On Friday, October 4th, Ascension had its annual Blessing of the Pets. This is a time when everyone at school is allowed to bring their pets to get blessed by Reverend Kennedy. Ascension has been hosting a Blessing of the Pets for 30 plus years now, and it is an event that most of the school look forward too. This is always a fun event that a lot of pets come to.
There is usually a lot of chaos and animals running around everywhere. This year there were two horses that attended the event to be blessed. Most people were not shocked that some had brought horses. Senior Graci Hargrave commented, "It's Ascension, of course, someone brought a horse". The one thing that is not pleasing about Blessing of the Pets in the pet odor and accidents. Senior Emily Menard was leaving the event when she stated, "So yeah, I stepped in dog pee. I just want to go inside". 
Overall most of the students really enjoy this day. I think that the majority of the students like that they get out of class and get to play with animals for an hour. This year there were not as many pets as last year, but this year there were more unique pets. This year's Blessing of the Pets was a success and a fun school event.
Leave a Comment
About the Contributor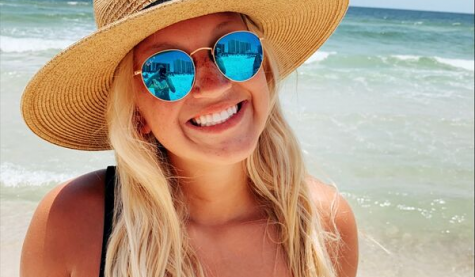 Kylie Touchet, Staff Writer
Hi! My name is Kylie Touchet and I am a current senior at Ascension! This is my third year at Ascension, and before I came here I went to STM. This is my second year doing cheer for Ascension, and that is the only sport I plan on participating in this year. "I cannot wait for this year", and I am pumped about all the memories.