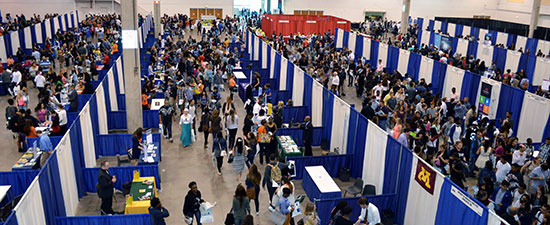 On Wednesday September 21, all of the Ascension juniors went to Baton Rouge for a college fair. The trip is an annual event for all the juniors to think about their future after high school. The college fair brings college representatives from all across the nation to tell students why they should go to their school. They had a representative from as far as Oregon and as close as University of Louisiana at Lafayette. Junior Sidney Ortego said,"the trip was a great opportunity to learn and ask questions about local and far away colleges."
The fair had many booths for each school. From the college reps, the students found out what their college's acceptance rate is, what you need to get in, and what scholarship opportunities the school offers. In Oregon, they have an average of 21,000 people apply, but only 3,000 people get in. At Ole Miss, prospective students only need a 20 on the ACT to get accepted. The college fair allowed the students to see colleges that they would have never even considered.
The trip was very helpful because it helped the juniors realize college is just around the corner. This showed them that they need to learn how to be responsible, and if they do not, they will probably not make it through college. As Junior Ella Sheets said,"the trip showed me that college is just around the corner and high school will go by with just a blink of an eye." The college fair was a very informational trip because the juniors learned about colleges they would never have known about, discovered what they need to do to get into college, and realized that college is going to be here sooner than they think.