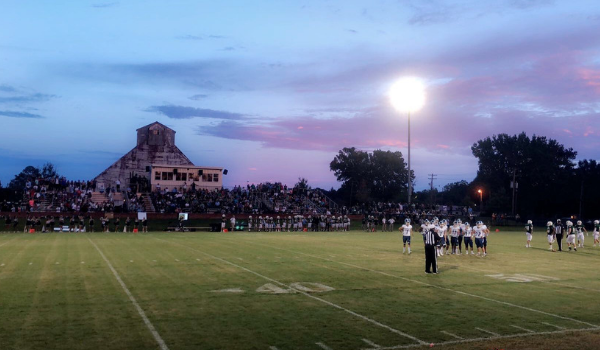 To start off the weekend last weekend, Blue Gator Nation took a vacation to New Roads, Louisiana! Fans came dressed in their best Hawaiian gear to support our boys. Unfortunately, the student section lacked fans due to the long drive; however, the ones that showed up were far from lacking enthusiasm. The Gators kicked off the night with a touchdown made by junior Willie Kerstetter within the first few minutes of the game, giving the Gators great momentum that was essential to the confidence of our players. As the night went on, the game swung back and forth many times. Anxiety levels rose as the 4th quarter approached and the Gators were down 47-28 with 8 minutes left in the game. As it seemed as if all hope was lost, senior Jhalen Brown rushed 3 yards which gave Ascension possession of the ball. Seniors Seth Kerstetter and Jhalen Brown then brought the game home by scoring 4 touchdowns securing the Gators' victory. Junior cheerleader Lauren Franques states, "the game was a rollercoaster of emotions, everyone was hugging random people and screaming at the top of their lungs out of joy!"
After a long morning of taking what felt like a never ending test (the ACT), the Gator volleyball team made their way to Southside High School where they would be playing a total of 4 teams: Southside, Teurlings, Academy of the Sacred Heart, and Notre Dame. The high hopes of bringing home a championship came to an end after a tough loss in their first game against the Rebels. Quickly moving on from mistakes made in the previous game, the Gators sought out their next opponents and crushed the competition the next two teams had in store for them. Last but not least, the Gators faced Notre Dame. The Gators lost the first set 25-13. It was a poorly played match on our part, but they came back with an unbelievable urgency to win, in which they ended up succeeding, with a final score of 25-22. At last, the tie breaker was to be played but only to 15 points. "In that moment, I realized what it felt like to be part of something bigger than myself, to be apart of a team," says defensive specialist, junior Ava Breaux. After winning the longest match of the day, the tournament came to an end as it was time to announce the champions. It was shortly announced that there had been a three way tie between Ascension, Notre Dame, and Teurlings and that an official winner would be determined by the total number of points scored throughout the day. As a team, the Gator girls had decided that no matter the outcome, they were proud to have left everything we had out on the court, but were ecstatic when they came out on top.
This weekend showcased great skills that our athletes posses and set the standard for the remainder of each season!